Top ecommerce players such as Amazon, Flipkart, Big Basket, Udaan and JioMart have already enabled voice commerce in their apps by adding in-app voice assistants.
Expansion is the name of the game
Voice commerce is the biggest unlock of this decade for ecommerce players to acquire the 400-plus million consumers of the non-metro Bharat, who are popularly categorized as the Next Billion Users. These users are accessing the internet for the first time on a smartphone and are not comfortable with English and spelling. They are the happiest when they can interact in their vernacular language.
According to the 2020 Unicommerce report, 67% of all orders during the festive sales in 2020 came from tier 2 cities and beyond. With adoption growing at such a fast pace, it's no wonder that top ecommerce players are already racing to capture these markets.
In-app voice assistants are the logical path to succeed in Bharat
Firstly, India is a mobile-first country with the rapid adoption of smartphones across all tiers of the market. There are 630-plus million mobile phone users compared to a few lakh smart speaker owners in the country i.e. smartphones that can engage with voice are 1000X more abundantly found versus smart speakers at home. Naturally, this makes the in-app voice assistants a natural choice of channel for brands to increase the accessibility of their ecommerce apps to the new internet users.
Secondly, most ecommerce players have already invested heavily in mobile and web commerce technologies as well as marketing these brand properties to millions of Indians over the last decade or so. These digital assets give the brands exclusive access to their customers at all times and helps them develop deeper insights about consumer buying behaviour. So, it is only natural that brands invest more in extending these existing digital assets to enhance the user experience with a conversational voice assistant.
Thirdly, in-app voice assistants help the marketing and product teams generate more insights about the way consumers purchase using voice and vernacular. This can help them design and deliver much better consumer experiences that can be tailored based on a user's language preferences, location and purchase patterns of the past.
What is in it for the people of Bharat?
Voice commerce levels the playing field for non-urban, vernacular citizenst. It empowers half a billion consumers to get access to the same level of convenience, the multitude of choices and the significant monetary savings on their purchases -- benefits that are currently being enjoyed only by their urban counterparts.
Additionally, millions of small and medium businesses, farmers, local and tribal artisans, etc. can get access to new-age marketing and sales channels to take their goods and services to a much larger market, with better-earning potential. They no longer have to depend on intermediaries and agents who are digitally savvy and English-speaking which enables them to connect with the demand side of the market more efficiently - and to save on the costs of doing business through intermediaries who, typically, markup the price for consumers or reduce the price paid to the suppliers.
Finally, even the urban consumers and sellers get the huge benefit of being able to reach the remote corners of Bharat with increased access to more than twice the current market in urban areas. This will provide greater impetus for more suppliers and sellers to join the marketplace platforms as there will be sufficient room for more players to engage with the new base of customers that get added to the platform.
Meanwhile, consumers will get a wider range of products and services that would have been previously unaffordable or limited in supply.
Voice is both a pain killer and a vitamin
While digitally savvy people have always had the convenience of digital apps, millions of urban people who are in their fifties or above, have always had trouble with using mobile apps for ecommerce. For this demographic, vernacular voice commerce automatically becomes a pain killer as it solves a critical problem for them in a very natural and intuitive way.
Just as an example, if your mother goes shopping online, the common challenges will be "what is avalakki in English?" and "how do I spell 'heinz' ketchup"? With an in-app voice assistant, she just needs to use Kannada (or any) language to say "eradu kg avalakki" and "heinz ketchup 1 bottle" - and the item gets added to the cart automatically in front of her eyes.
The current generation of youth, born after 2000, are already high on digital and demand greater convenience and smarter user experiences on their apps. For them, voice becomes a powerful tool to get things done faster, hands-free and while multitasking with other apps on the phone! For them, voice is a vitamin that boosts their efficiency in managing "mundane chores". They are a digital-first and voice-first kind of generation where voice or digital is not alien to them.
Conclusion
Voice commerce is the biggest lever for ecommerce players to grow exponentially in this decade as it:
Accelerates customer acquisition and market expansion
Improves consumer experience for better customer retention
Increases conversions and ticket sizes from browse to purchase path
Voice commerce today is at the same phase of adoption by Indian customers as mobile commerce was 10 years ago. Ecommerce brands are racing to ensure that they do not get left behind in the opportunity of this decade.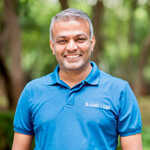 Kumar Rangarajan
---
Kumar Rangarajan is CEO and co-founder of Slang Labs. The views in this article are his own.
---