Here's what the DNA of a customer-centric organization driven by cutting-edge tech looks like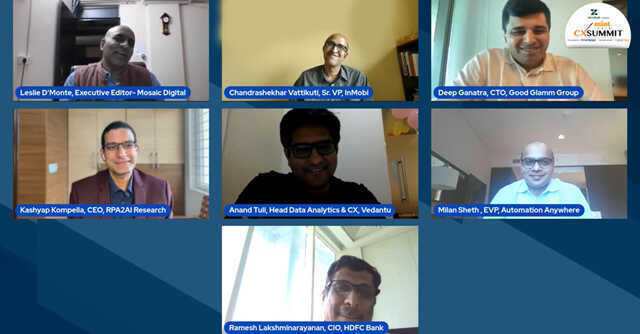 Every company has a story, and the story today is invariably all about the customer who could be buying your services or products from a physical mall or online from a desktop, smartphone or kiosk. The fact is that with multiple customer touchpoints, a superior customer experience (CX) has become the holy grail of businesses today. It's but natural, then, that organizations that hold customers close to their heart, and not provide mere lip service, become the true beacons of customer delight.
That said, technology appears to have completely transformed CX during the pandemic. Customer support has finally come out of call centers and entered the boardrooms. With contactless becoming the new world order, conversational messaging platforms for instance can be effectively leveraged to not only resolve customer queries but also engage with them.
Companies are using artificial intelligence (AI), machine learning (ML), robotic process automation (RPA), computer vision, 3D and, of course, advanced analytics to provide innovative solutions to address customer issues and keep them continually satisfied.

Eminent panelists from HDFC Bank, ed-tech player Vedantu, cosmetics maker Good Glamm group, and technology solution makers and researchers such as InMobi, Automation Anywhere and RPA2AI research shared their insights at the Mint CX Summit on Monday, on how they use these technologies in their respective companies to ensure customers satisification. The panel was moderated by Leslie D Monte, Executive Editor of TechCircle (Mint, HT Media). Here are eddited excerpts:
"It starts with the definition of what is a good experience, and what are the touchpoints in which we can ever delight. The second aspect is how to institutionalise these touch points," said Chandrashekhar Vattikuti, Senior Vice President of the InMobi Telco Cloud, a mobile advertising technology major. This is usually done by the right measurement optimization, continuous tweaking to assessments and ensuring that the execution is on point, according to Vattikuti.

Vattikuti pointed out that in the competitive atmosphere, losing a customer is as easy as them clicking on the next banner ad, or the next app icon.
For cosmetic manufacturer the Good Glam Group, the story of being a customer centric organisation is a bit different. Before e-commerce came to the fore, the focus was on sales, and now companies have realised that giving better experiences or customers will drive long term growth for the company.
"The focus is on creating an offline personalised experience, online through having information about last purchases, recommending the right products and even providing tutorials on how to apply the cosmetics," said Deep Ganatra, CTO of Good Glamm Group.

From the data science end, customer data is collected from different touch points of the user, after which everything moves to a data warehouse system, where it is pushed into many algorithms to crunch out actionable insights. The website even provides virtual try-on features, where users can try the lipstick on their own 2D images.
"There are many more personalised experiences that we are working on and it's all possible due to data collection," added Ganatra.
For ed-tech giant Vedantu, the focus is on learning engagement and through specific interventions in the student learning journey to customise and provide the best education possible for the children. "There are interventions required in terms of the teachers, the sessions, the online tests, reading materials and this is where technology comes in,'' said Anand Tuli, Head of Analytics and Decision Sciences at Vendantu.

"Without technology, the analytics and the intelligence, it is next to impossible to identify gaps, and that is the value proposition that we deliver," added Tuli.
But for banking major HDFC bank, the scenario is completely different in terms of the amount of data, the sensitivity of the data in question and the large number of legacy IT systems in play.
"Large traditional banks have let the user experience move onto the latest fintech players. Whether it is the UPI apps, GPay, PhonePe, the market is moving to a stage where a lot of Jostling is happening on the real-estate of mobile phones," pointed out Ramesh Lakshminarayanan, CIO and Group head of IT at HDFC Bank.
A few years ago, banks could get away with a basic mobile application for basic banking functions, but Lakshminarayanan feels that the pandemic had moved digitization to a very different perspective in banking. "Banks have had legacy systems for 25 years and it is not easy to implement AI/ML technologies in the legacy systems," added Lakshminarayanan.

Milan Sheth - EVP IMEA Region, for automation solutions provider Automation Anywhere, believes the biggest potential for failure in customer success does not happen in the front-end, but rather occurs in the mid-office and the back-office.
"They follow 'bureaucracy', or set standard operating processes, saying that my function is over the customer, and not the customer over the function," said Sheth.
Mirroring Sheth, Kashyap Kompella, CEO of market research firm RPA2AI said- "The value really comes from having that core operational excellence at the back-end or at the middle and the back end." Citing the example of Amazon, Kompella said the e-commerce company's customer experiences are not what they offer in the front end through AI/ML analytics for customers, but how they optimise their core logistics and supply chain to support the customer journey.

Another trend that is strongly coming out is that it's not just a specific technology, but the foundation of really solid data capability expertise in delivering technologies on top of that," added Kompella.
---