Gadgets at Work: Microsoft Surface Laptop SE takes on Chromebooks in schools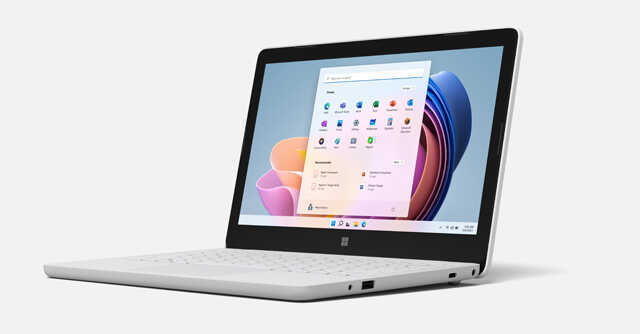 Gadgets at Work is a weekly section where we highlight gadgets and consumer products that can help simplify any executive's life.
Microsoft is taking on Google Chromebooks with a new lineup of entry-level notebooks running on Windows 11 SE.
The first device in this new lineup of products includes the newly launched Surface Laptop SE, which starts at $249.

Microsoft's various OEM partners such as Acer, ASUS, Dell, Fujitsu, HP, and Lenovo are expected to roll out devices on Windows 11 SE soon.
The pandemic-led shift to remote work and learning triggered massive demand for notebooks across the globe. PC shipments in India reached a record five-year high of 4.1 million devices in Q2 2021, reported Canalys.
The Surface Laptop SE and other Windows 11 SE devices would expand the options available to students and professionals who are looking for entry-level notebooks for learning and basic work such as browsing the web, making Microsoft Teams or Zoom calls, and drafting emails.

As of now, Google's Chromebook is the only viable option in the notebook segment.
Tablets have seen some traction, but their penetration has been limited in many markets where users still prefer notebooks with a full-fledged keyboard.
The Surface Laptop SE is an entry-level notebook and has an 11.6-inch display with a resolution of 1366 x 768p and an aspect ratio of 16:9. The notebook will be powered by Intel's Celeron N4020/N4120 processors, which will be combined with 4GB / 8GB of RAM and 64GB or 128GB of eMMC storage.

According to Microsoft, some Windows 11 SE devices by partner OEMs may be powered by AMD hardware too. The other highlights of Surface Laptop SE include 1-megapixel front-facing camera with 720p resolution, which is decent enough for Team meetings.
The notebook doesn't lack in terms of connectivity options and includes a USB-A port, USB-C port, DC connector, and a 3.5mm headphone jack. The laptop claims 16 hours of backup, which will be a huge boost for professionals or students on the go.
At first glance, Surface Laptop SE looks basic and may turn away many users, especially those who have had some experience with low-cost devices from the netbook era. However, Microsoft claims that the new Windows 11 SE has been optimized for low-cost devices.

"Windows 11 SE was designed and built during the pandemic to address the most fundamental challenges that schools will face in the blended learning world. It brings performance enhancements that optimize resources on low-cost devices to deliver more comprehensive learning experiences and is simple to deploy and manage," Paige Johnson, Vice President, Microsoft Education said in a blog post.
Read more: Windows 11 SE is Microsoft's attempt to take on Google's ChromeOS, again
This isn't the first time Microsoft and its OEM partners have tried to tap into the entry-level notebook market. Netbook as a category was born to cater to the needs of students and users with limited work requirements. However, due to performance issues caused by poor optimization of Windows 7 and 8 on entry-level devices, many users decided to avoid them after the initial buzz fizzled away.

---