Cloud migration has picked up across the sectors and across the globe in recent years, especially against the backdrop of the pandemic. One of the causes of this effect is users remotely connecting to cloud networks, especially while working from home. It naturally amplified the security threats too, prompting the companies to raise the spending on security.
Recent studies suggest that risk management and security spending grew by 6.4% in 2020. However, 79% of companies still want better-integrated security and governance for their data in the cloud.
Gartner predicted a growth of 41.2% of total cloud spending on security in 2021. It simply means that we are at the cusp of cloud security requirements. The spending will continue to rise until we reach the safe zone. But, with the advent of modern technologies and the enterprising innovations by hackers, it will take a long time before we can reach the comfort zone.
There are multiple threats to watch out for on a short term and long-term basis. The biggest threat continues to come from misconfigurations, which amounted to over 60% of the total threats in the last year. The misconfigurations can be at the infrastructure level or at the application level. It can come in the form of data breaches, cloud breaches, insider threats or external bad actors.
Risks associated with identities could be another key threat to guard against. There could be multiple users using the same credentials, either from someone's own organizations or outside in a shared environment, raising the chances of threats.
Similarly, we should also watch out for rising internal security threats and data breaches. An insider threat can come from anyone like current or former employees, contractors, or business associates, knowingly or unknowingly either through direct access or through the backdoor entry. Some reports say that 95% of cybersecurity breaches happen due to human error. In 2018 alone, 60% of companies experienced insider attacks. This number should have gone much higher once the pandemic forced people to work and connect remotely.
Another new, yet emerging threat, is related to edge/perimeter security. This is primarily because of modern technologies like blockchain and the Internet of Things (IoT) due to their decentralized nature. Edge devices have expanded the attack surface, prompting the companies to focus on edge security for at least the next four to five years. Hundreds of edge devices mean hundreds of entry points for attacks.
Device security is another focus area getting attention from the experts. Similarly, lack of organic security as part of application development, threats due to lack of cloud-native security tools, machine and service identity-related security breaches, breaches due to risky authorizations are some of the principal areas to be focused on to improve the overall security scenario in the cloud environment.
The net result of threats is obviously the cost involved, whether it is a big or small company. As per IBM's - Cost of a Data Breach Report, the average cost of a data breach in 2021 was 4.24 million dollars. So, how to address these challenges is going to be the key this year.
The most important mechanism is going to be Cloud Security Posture Management (CSPM). This is important as it addresses the past, present and future of cloud states. It assesses what happens in the network, monitors constantly what is happening and rectifies loopholes, and makes the organisations ready to face future challenges based on past and present learning.
CSPM directly addresses issues like misconfiguration, lack of visibility, identity and unauthorized access which are the highest-ranked threats. It helps businesses develop trust with their users in terms of security. Moreover, it works with SaaS (software as a service) and PaaS (platform as a service) platforms even in multi-cloud environments.
With a vast number of organizations going for container models in the next couple of years, cloud-native tools will be the next key area to focus on. We need to analyse the full spectrum of cloud-native stack including containers, clusters, orchestration systems, cloud infrastructure enabling microservices.
With the advent of Blockchain and IoT, the cloud has become a distributed phenomenon rather than a centralized one. So, it is important to safeguard applications and data even at the farthest edges of the network. It also mandates the security of all devices connected, whether it is IoT devices, phones, tablets, wearables, or portables.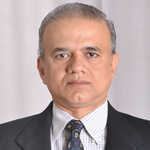 Raj Srinivasaraghavan
---
Raj Srinivasaraghavan is the chief technology officer at SecureKloud Technologies Ltd.
---