With the internet being a part and parcel of our lives and penetrating every nook and corner of the country, we have become more agile towards the issue of privacy. In today's high-tech world where new technologies are influencing our lives like never before, companies often face the challenge of securing data and personal information of the customers, employees and individuals.
There is no denying the fact that privacy is a major concern for people today and they are aware that at some point the personal information stored on various resources online can become public. And the public is not really willing to overlook their privacy and give a go-ahead to any data anymore.
Recently, several sources evidently show that search volumes for the keywords such as the Data Privacy Act have increased multiple times in the last few years. In today's highly volatile internet world, users have started raising enquiries regarding laws related to the exchange of personal information and its protection. Despite all safeguards such as antivirus, firewall and encryption tools etc. privacy is a price that users have to pay online.
Now the question is how can technology solve this challenge and develop an ecosystem of data protection transparency for the future?
Centralized Privacy UX can be the answer to this to a larger extent. Privacy-Aware Design Framework, more commonly known as Privacy UX is an approach that is based on designing ethical and respectful user interfaces within your existing business processes such as data collection and privacy interaction with users. Today, consumers across spectrums are more aware of their privacy and expect it to be treated diligently by the businesses with whom they engage online. Consent for instance is an important part of engaging online. Businesses or brands that are more eager toward shady cookie prompts, senseless push notifications and deal in third-party tracking are more at the risk of facing an increased bounce rate.
Centralized Privacy UX plays a vital role in encouraging trust among users to opt-in for consent to any business's marketing activities. It helps in creating a more respectful image of the brand among customers where they are provided with an option of consent to deal with their information online.
Once you are designing a privacy-aware UX interface you need to be aware of some basic principles that will make it easier for customers to build trust in your organisation.
Create tailored flows basis different personas as you must remember that one size doesn't fill all nor does one flow will serve the needs of multiple personas. The users online are drastically different in personas and you need to create multiple flows to cater to their needs and requirements.
For instance, if you have a casual visitor he/she would bounce back if they are greeted with multiple notifications asking permission to access data. On the contrary, if there is an anonymous surfer who has reached your website with a pseudo VPN or IP, he/she would ask for all insights before they agree to the permissions prompted.
When you are too elaborate about the permissions with a series of options, it creates doubt in the minds of the users and turns them off. It is important to keep it simple and highlight the value of the transaction. You need to be clear, transparent and consistent in your messaging to gain the trust of the users and expect them to opt in.
You don't need to show hurry in asking for consent since trust is a potent factor online. Putting a consent notification on the very first page of your website is a no-go. Make sure that your users are able to surf through the website for some time while feeling anonymous and then ask for their consent. This way, they are able to develop a perception of your brand and are more prone to trust you.
Make sure that you provide users with both options: "Accept" and "Decline". If you provide them with "Accept Only" option it is eventually going to make users feel trapped. Whereas the option to decline empowers users to have control over their data and feel safe and secure.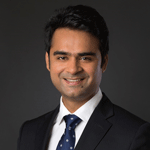 Amit Jaju
---
Amit Jaju is the Senior Managing Director of Ankura Consulting (India).
---