The very best of CES 2023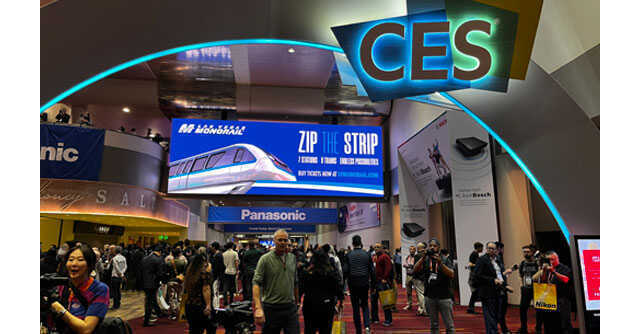 Amid fear of recession and economic uncertainty that has impacted demand for consumer electronics, the world's biggest tech show, the Consumer Electronics Show (CES) returned this year. CES may have escaped attention in the past two years, due to the pandemic, but with 115,000 attendees and over 3200 exhibitors, this year's show proved that it's back in full swing. Here's the best from the show:
Sony Honda Mobility's new EV concept car
Sony Honda Mobility (SHM), the joint venture between the two companies, has unveiled a new lineup of concept electric cars called Afeela. It has 45 sensors and cameras placed inside and outside the car to detect obstacles and track the driver's well-being. The cars will use Qualcomm's SoCs while Epic Games is helping with entertainment. SHM is planning to launch Afeela in North America in late 2025.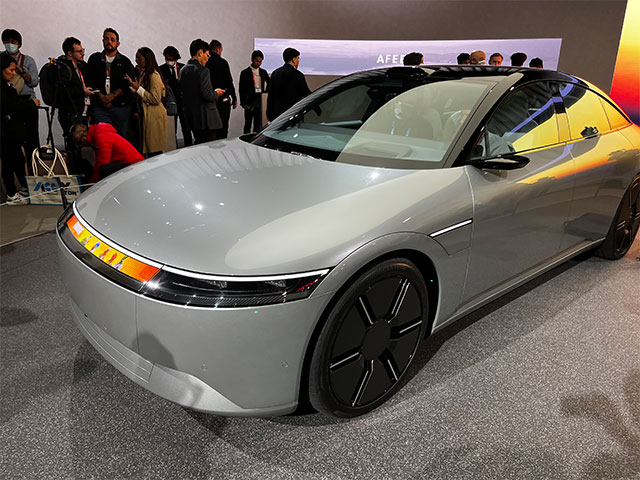 Sony and Honda have come together to make the Afeela EV
Where's that touchpad?

LG's new laptop Gram Style stands out with its glass design that changes color according to the lighting and viewing angles. The laptop also has a hidden haptic touchpad with soft LED backlighting, which lights up on touch. It runs on Intel's 13th gen CPUs and has a 16-inch display variant.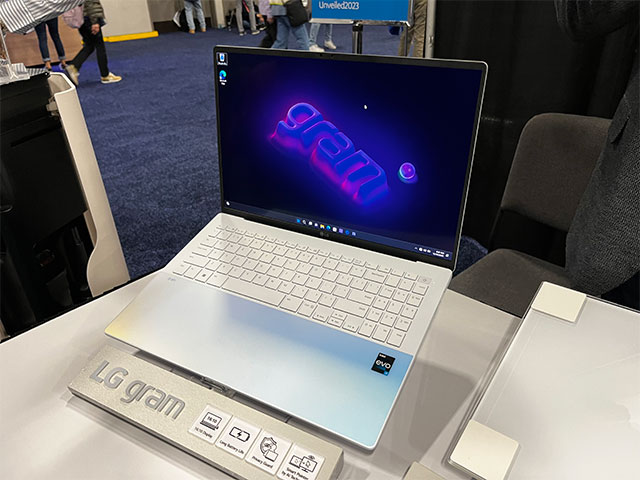 The new LG Gram Style has a touchpad, but you can't see it

A smart home controller that also charges phones
Samsung also showcased a wireless charging pad called SmartHome Station that can double up as a controller for smart home devices. It is compatible with the new universal industry standard Matter which means it can be used with smart home products from different brands. The station can save three routine smart home settings, allowing users to control or give commands to multiple devices across the household with a press of a button.
TVs for the visually impaired

Samsung's visual aid solution Relumino which allows users with low vision to watch content on TV will be available as an in-built feature in the new Samsung Neo QLED 8K and 4K TVs expected to be launched this year. Relumino activates a color invert mode that enhances the contrast ratio and makes the outline of the objects clearer to viewers with low vision. Users with older Samsung models can access it through Relumino glasses which will also be available this year.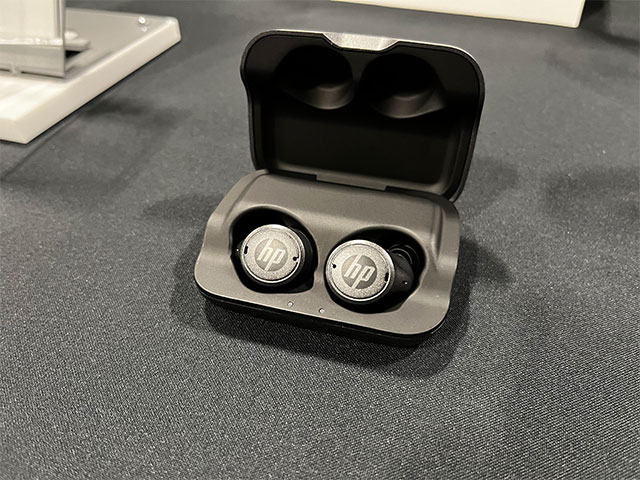 HP Hearing Pro is an FDA-approved wireless hearing aid device that looks like a regular pair of truly wireless (TWS) headphones.

Earbuds for the hearing impaired
HP Hearing Pro is an FDA-approved wireless hearing aid device that looks like a regular truly wireless stereo (TWS). Meant for users facing mild to moderate hearing loss, the device uses NAL-NL2 calibration algorithm to measure the hearing level of every user and then adjust the sound levels to suit the user profile. It uses directional microphones to focus on sound coming from the front.
Extending reality towards the metaverse

US-based startup OVR Technology showcased an olfactory VR headset that can allow users to smell objects in the metaverse, while South Korean firm bHaptics showcased haptic vests and gloves, allowing users to feel sensations in the metaverse. Sony showcased a portable volumetric system that can reconstruct 3D animated versions of people, objects, and spaces in real time. The generated content can be viewed in metaverse or Sony's spatial reality displays. English Premier League club Manchester City is one of the first users of this technology.
Further, Indian startup AjnaLens' new mixed reality (MR) platform Ajna Vidya allows companies to leverage the technology and its immersive experiences to offer skilling programs to employees. Similarly, individuals can sign up for off the shelf training modules and upgrade their skills. They can use the platform skilling courses.
Sensors for driver safety
Bosch is offering new sensors and camera systems that can enhance user safety and provide assistance to drivers and passengers in distress. For instance, the RideCare solution allows car owners to connect to Bosch associates in case of an accident or other emergency.
Bosch Off Zone crash detection also uses an array of sensors placed inside the car to analyze the angle of impact and activate safety bags on time.
Qualcomm also unveiled the Snapdragon Digital Chassis, a multi-purpose platform that can be used by car makers to offer experiences like immersive infotainment, driver assistance, and enhanced safety.
Conversational robots for children
CATI by Catius Inc is a stuffed toy that is a conversational AI robot capable of recognizing child speech. CATI can converse and help children in the age group of 2-5 years develop language, cognitive and social skills. It can also analyze speech data of children from interactions and update parents on the child's progress.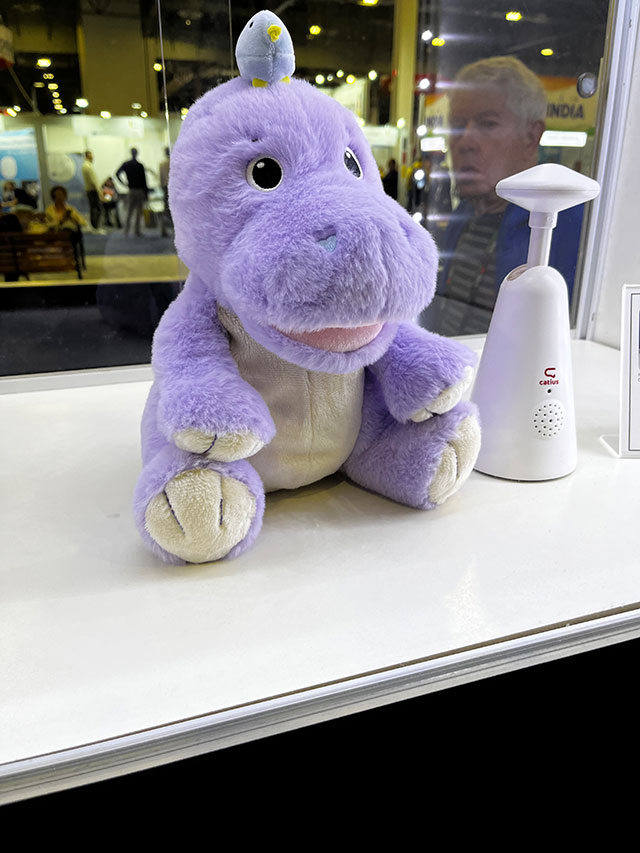 CATI by Catius is an AI robot that recognizes children's speech
Growing vegetables indoors
The New Rise Garden by Rise Gardens is a Wi-Fi-enabled indoor garden that allows users to grow any vegetables and herbs inside their homes in a controlled environment throughout the year. It is equipped with LED lights powered by photosynthetic active radiation (PAR) to mimic natural outdoor conditions that plants need to thrive. It has a 9-gallon self-watering system that recirculates and reuses the water, reducing water usage by 95%. It has a modular design that allows up to three shelves with a capacity of up to 108 plants. The garden is also Alexa-enabled and provides updates on plant status through an app.
Smart stethoscopes
Smartsound's smart stethoscope Skeeper R1 uses AI to automatically detect heart murmurs and abnormal lung sounds. The device has an in-built screen to display the readings which cut smartphone dependence. Another startup Aevice Health showed a wearable smart stethoscope that also uses AI to identify abnormal lung sounds in asthma patients. This one has to be paired with a smartphone to get the readings and analysis of the overall lung health of the patient.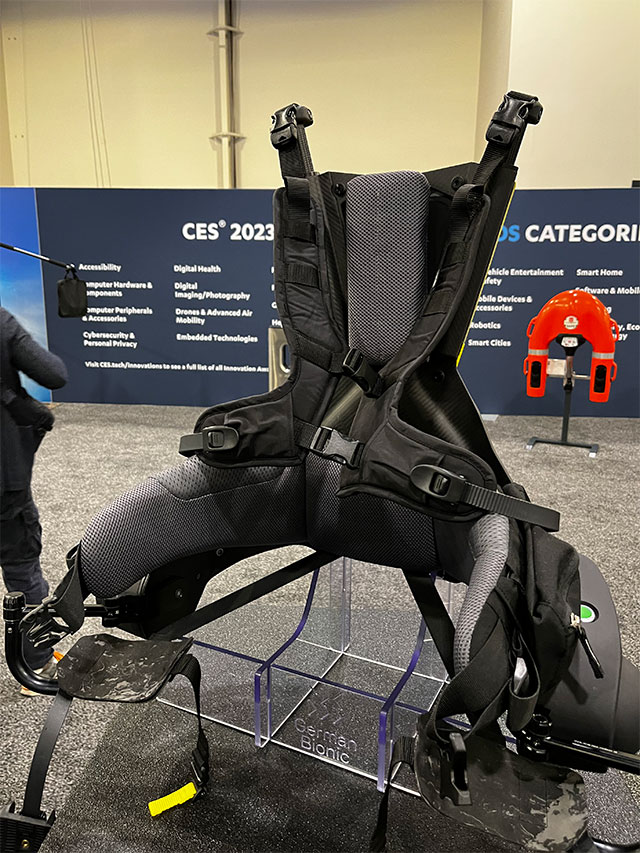 Cray X is an exoskeleton device for warehouse workers
Exoskeleton devices for surgeons, factory workers
One of the recipients of the CES 2023 Innovation Awards, Cray X by German Bionic Systems is an exoskeleton device meant for workers in warehouses, factories, or construction sites which involve lifting heavy objects. It reduces stress on the lower back of a worker by taking a load of up to 30kg. Firms can monitor its usage with real-time data. Japanese firm Archelis also showed an exoskeleton called Archelis FX that can reduce fatigue and chronic pain caused by long hours of standing. It can distribute the body weight from the soles to the thighs and shins.
Smart pillow to improve sleep quality
Motion Pillow 2023 by South Korea-based 10Minds Co Ltd uses a motion detection system to listen to snoring sounds and adjust the user's head position by partially inflating airbags in a specially designed connected pillow. As the pillow inflates, it tilts the head to open the airways and reduce snoring
An electric bike that folds
Japanese startup ICOMA turned heads with a new electric bike concept called Tatamel. Made of 3D printed parts, the bike's modular design allows it to be folded like a suitcase and parked inside the house. This makes it relevant for cities with limited parking space. The bike has a 10-inch wheel on the front and a 6.5-inch back wheel.
---