Apple launches Matter-enabled HomePod smart speaker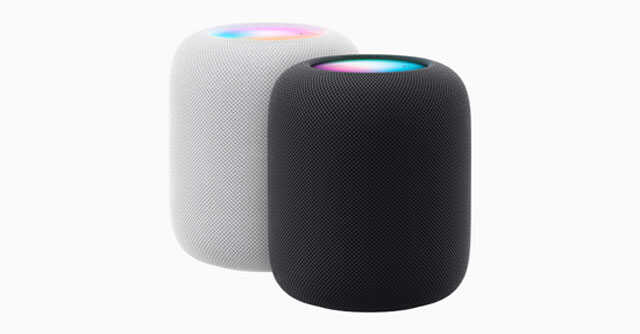 Apple has announced its 2nd generation HomePod smart speaker that is compatible with Matter, the new universal industry standard that makes smart home products from different brands interoperable with each other. Apple is one of the members of the Connectivity Standards Alliance (formerly known as Zigbee Alliance), which created and maintains Matter.
Apple said that users can connect and control any Matter-enabled device with the new HomePod. They can also use it to get notifications if smoke or toxic gasses are detected at home. The speaker has an in-built temperature and humidity sensor to measure and keep track of indoor environments so it can automatically adjust the temperature or lower the smart blinds if the user has left automated instructions for that.
Most consumer electronics products ranging from TVs to smart fridges announced this year have added or will add Matter support later, indicating a general consensus among brands towards making their devices work with that of other brands.

Available in white and midnight colours, the new HomePod has a transparent mesh fabric exterior and a backlit touch surface. It will be available in Apple's offline and online stores from February 3 at a starting price of ₹32,900.
It is compatible with iPhones launched after iPhone 8 and runs iOS 16.3 and iPads running iPadOS 16.3.
In addition to being a controller for smart home devices, Apple's HomePod is also a smart speaker powered by the new S7 chip that uses software and sensors to offer something called an advanced computational audio experience.

According to Apple, the speaker uses sensors to detect sound reflections from nearby surfaces to adjust sound in real-time. It can also control the directions of the five tweeters to separate and beam direct and ambient audio.
Users can also connect multiple HomePods using AirPlay and play the same song on all speakers simultaneously or use them as an intercom to broadcast messages in other rooms. It can also be used to locate any Apple device like an iPhone by ringing it from the speaker.
Apple claims that all communications with the new HomePod will remain end-to-end encrypted and even Apple cannot read or access them. Voice commands made to Siri will also not be stored by default, the firm added.

Privacy concern is one of the reasons why many home users are against using smart speakers.
The economic downturn and fear of recession, which has impacted demand for most consumer electronics have also impacted smart home devices. According to a December report by International Data Corporation (IDC), the shipment of smart home devices was expected to fall by 2.6% last year. However, it is expected to grow this year at 4.6%, the report added.
---