IIT Guwahati, industry partners sign MoU to offer drone-based training in Northeast India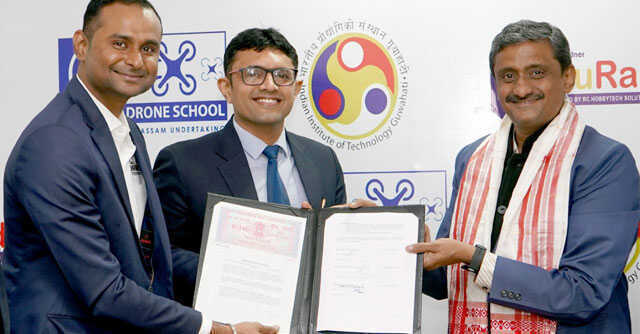 Indian Institute of Technology (IIT) Guwahati has signed a Memorandum of Understanding (MoU) with Assam Electronics Development Corporation Ltd (AMTRON), and RC Hobbytech Solutions Pvt. Ltd. (RCH), a system integrator in the drone space, to offer drone-based training, research and development for sectors such as agriculture, disaster management, wildlife conservation and healthcare, among others, in the region.
The partnership aims at offering drone-based training primarily to youths in the North-eastern region so that they can upskill themselves and find relevant jobs in this space.
Under the MoU, IIT Guwahati will set up a commercial drone flying school in its campus that will offer commercial drone flying fresher courses and other related advisory and consultancy services such as renewing their drone flying license, secure necessary commercial drone permits and help prepare students for drone flying tests.

Besides, the school will connect the students with organisations that need professional drone flyers. It will offer professional courses in the field of drones that will offer a wide range of services such as Drone based survey and mapping; Geographic Information Systems courses, Coding and AI related courses, and other related courses will be a part of this objective.
IIT Guwahati along with the industry partners will work on initially developing few prototype drones with an aim of getting it certified by the Quality Council of India (QCI) which will be used in activities including agriculture; spraying, seeding and crop health monitoring, mapping and surveillance, among others. The Institute will provide all the necessary machinery, software, related hardware and other utilities for the same.
"The three organisations will work in tandem to actively engage in the research and development activities and the esteemed members of IIT Guwahati Drone Centre and Technology Incubation Hub will be integral parts in this endeavour for the greater good of the region," said Parameswar K. Iyer, Officiating Director, IIT Guwahati.

In this regard, IIT Guwahati will develop ready to fly surveillance and payload delivery drones to cater to the needs of the state to contain disasters, AMTRON will provide communication support, and RCH will provide necessary technical expertise in developing the drones and associated systems. A disaster response cell will also be established at IIT Guwahati which will be operated by the Drone Helpline Student Volunteer Team of the Institute and AMTRON Drone Team.
Even though nascent, drones, also known as unmanned aerial vehicle (UAVs), are increasingly used across industry including delivering food and parcels, increasing agricultural yields, and improving the effectiveness of the defence forces. The Government aims to make India a Global Drone Hub by the year 2030, which will cause the domestic drone industry to see explosive growth.
As more businesses and organisations use these devices for logistics and transports, there is also a high demand for drone pilots across the country. At the 'Drone Yatra 2.0', event in Chennai in December last year, Union minister Anurag Thakur said that India will require at least 1 lakh pilots in 2023, adding that each pilot will earn at least ₹50,000 to ₹80,000 a month, and in this scenario about ₹6,000 crore a year worth employment could be created in the industry.

---