Samsung to offer skills training in AI, IoT to 3,000 students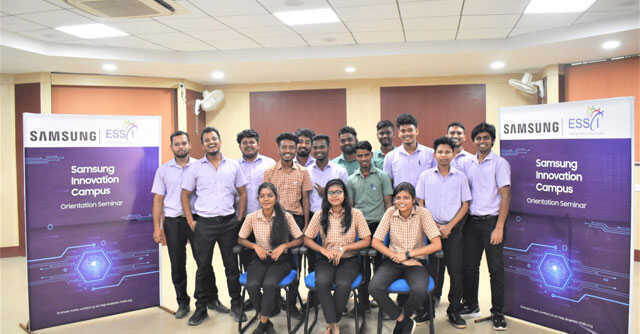 Electronics company Samsung is training 3,000 less-privileged students, selected through a pre-course assessment, in artificial intelligence, the internet of things (IoT), coding, and programming. The training is being conducted across eight campuses in the country under the company's corporate social responsibility program — Samsung Innovation Campus.
The courses have already begun at the University of Lucknow, National Small Industries Corporation (NSIC) in New Delhi and Hyderabad, Chhattisgarh Swami Vivekananda Technical University in Bhilai, SRR College of Arts & Sciences in Karimnagar, Central Tool Room & Training Center in Bhubaneswar, Sri Jayachamarajendra Polytechnic College in Bengaluru and Dr Lankapalli Bullayya College in Visakhapatnam.
Samsung is executing the program through the Electronics Sector Skills Council of India (ESSCI) and its training and education partners. ESSCI, a National Skill Development Corporation (NSDC) approved entity, signed a memorandum of understanding (MoU) in September 2022.

The courses are divided into batches of 30 students on average. At the end of the classroom training, the students will be required to complete hands-on capstone project work in the selected technology area. Upon completion of the course and project submission, the students will receive the certification.
Samsung is providing a few course-relevant tools to the enrolled students. For instance, students undergoing the IoT course use the Galaxy Upcycling kits, which consist of a Samsung Galaxy S9 or Note 9 smartphone, resistors, tactile switch, USB adapter, and an ESP32 development board, etc.
Students in the AI course will have 270 hours of theory training and 80 hours of project work; for IoT and big data course, participants will have 160 hours of training and 80 hours of project work. For the coding and programming course, students will participate in a four-day hackathon in addition to 80 hours of training. Apart from coursework, students will also undergo soft skills training. Samsung will offer support in the employment and recruitment process.

"Our global citizenship initiative, Samsung Innovation Campus, is closely tied with India's development agenda. Through this initiative, we want to empower the youth and create opportunities for them in future tech domains, further boosting India's growth story and strengthening our commitment to Powering Digital India," said Partha Ghosh, Head, CSR and Communications, Samsung Southwest Asia.
---