Spotlight: CXO movements this week (April 29-May 5)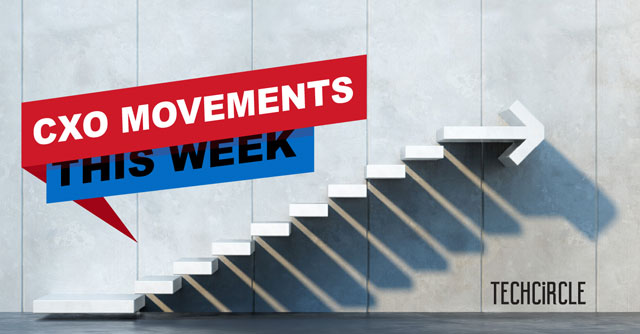 This week (April 29-May 5) saw several CXO movements in the technology industry – both Indian and global - with some of the major appointments in key business positions. IT firms like Accenture, UiPath and NetApp made important appointments. There were also some senior-level exits/retirements from firms like Google and Accenture. Non-tech firms like Tata AIG General Insurance Company and TTK Prestige have also made C-level appointments in tech roles. Here's the roundup:
Accenture's Rekha Menon retires, Ajay Vij, Sandeep Dutta to take over
IT services and consulting firm Accenture has said that Rekha M. Menon, senior managing director and chairperson for Accenture in India, will retire as of June 30 after serving for 20 years at the company. During her tenure, Menon held various roles across Accenture's growth markets and played an active role in growing Accenture's business, strengthening the company's presence in its communities and building relationships with key stakeholders including industry, government, and clients. The company has appointed Ajay Vij as country Managing Director and Sandeep Dutta as India Market Unit head. (Read more)

Ex-Pure Storage exec Andrew Sotiropoulos joins NetApp to lead APAC business
American storage and data management firm NetApp has appointed technology veteran and senior business executive Andrew Sotiropoulos as senior vice president and general manager for Asia Pacific. Based in Singapore, Sotiropoulos will lead the company's expansion plans in the APAC region, including India. Sotiropoulos has over three decades of experience in the technology industry, and most recently served as vice president of Asia Pacific and Japan at Pure Storage, where he joined in 2018. He has also led teams at IBM and Lenovo prior to these appointments. (Read more)
Soumya Bhattacharya joins Creative Synergies Group to lead embedded systems, IoT, AI units

US-based Creative Synergies Group, a digital innovation solution provider, on Tuesday, announced the appointment of Soumya Bhattacharya as executive vice president, embedded systems, internet of things (IoT) and artificial intelligence-machine learning (AI/ML). Bhattacharya comes with over 26 years of experience in digital product engineering services, delivery, sales and profit and loss (P&L) management. In his new role, Bhattacharya will be overseeing embedded Systems, and incubating emerging digital technologies for the brand's global businesses across the US, UK, Japan, Germany, Netherlands and India. A PhD in Robotics from IIT Kanpur, Bhattacharya has previously worked with tech companies such as Wipro, Aricent and Calsoft. (Read more)
Anjani Kumar joins Tata AIG General Insurance as CTO
Tata AIG General Insurance Company Limited, a general insurance company and a joint venture between the Tata Group and American International Group, has appointed Anjani Kumar as Chief Technology Officer (CTO) and executive vice president (EVP). Kumar joins from Strides, a pharmaceutical company, where he served as chief information officer (CIO) for over three years driving the company's digital agenda. In a career spanning 24 years, he has served in IT consulting, telecom, automobile, logistics, and pharmaceutical industries. In the recent past, he held technology and operations leadership roles at Nissan, Strides, and Safexpress as well as profit and loss (P&L) for products and services at IBM and Collabera. (Read more)

Geoffrey Hinton quits Google amid growing concerns around AI innovation
Geoffrey Hinton, widely considered the "Godfather of artificial intelligence" has stepped down from Google earlier this week. Hinton was the vice president and engineering fellow at Google, where he joined in 2013. In a Tweet, Hinton said that after quitting his job at Google, he could freely speak about the risks of AI. Hinton won Turing Award in 2018, considered the Noble Prize for computing, for his work in neural networks, along with Yoshua Bengio and Yann Lecun. These neural networks have formed the base for several other systems including facial recognition, digital assistants, self-driving vehicles, and tools like ChatGPT. Hilton said that while the AI systems which are built on large amounts of data were still inferior to the human brain in some ways, in a few other ways, they were 'eclipsing' human intelligence. He also added that going forward, AI technologies may disrupt the job market. (Read more)
Former Google Cloud exec Kelly Ducourty joins UiPath as chief customer officer

Kelly Ducourty, former market strategy and operations lead at Google Cloud, has joined automation software company UiPath as chief customer officer to lead the company's customer operations, customer success and professional services. In her new role at UiPath, Ducourty will report to co-CEO Rob Enslin and will work to help customers and partners, the company said in a statement. Prior to her stint in Google, Ducourty spent over two decades at Hewlett Packard Enterprise (HPE) in various leadership roles. Ducourty is passionate about science, technology, engineering, mathematics and computing (STEM+C) education and career development for young women. (Read more)
Ramasubramaniam R starts new position in TTK Prestige as chief information and technology officer
Ramasubramaniam R has started a new position as Chief Information and Technology Officer at TTK Prestige Ltd. He joined the company in 2016 as general manager of IT while also leading the company's security functions. He is a mechanical engineer who pursued a master of business administration (MBA), and a master of science (MS) from BITS-Pilani, and a post-graduation in information security, digital strategy and transformation from the Indian Institute of Management (IIM) Kozhikode. Ramasubramaniam has over two-and-a-half decades of professional experience in manufacturing, supply chain, sourcing, IT and cybersecurity functions and has won many awards on the technology space including. Prior to joining TTK Prestige, he worked at Titan Company Limited delivery head - IT operations.

---