Exclusive: Yumist stops app-only play, starts taking orders on desktop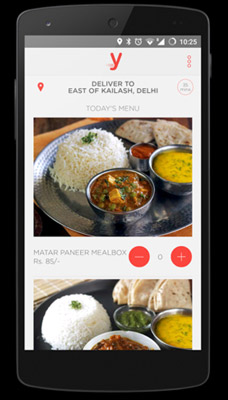 Food ordering startup Yumist.com is moving away from the app-only approach by enabling its website to take orders.
Yumist's decision to start desktop transactions comes at time when several tech startups are junking their web-presence in favour of app-only usage.

In response to a Techcircle.in query, Yumist co-founder & CEO Alok Jain, said: "A good chunk of our orders come from offices. These customers are almost always in front of a desktop or laptop and allowing them to order via web makes sense. Also, we are servicing the daily meals market at price points of Rs 65-Rs 95. Allowing web ordering enables us to reach a wider audience in this segment."
Yumist will continue to take orders on its app.
"There cannot be a one-size-fits-all approach. For us, it makes sense to be present across platforms considering the target segment and our offering of reasonably priced meals," he added.

Yumist was founded in October 2014 by Jain and Abhimanyu Maheshwari. It offers home-made food and primarily serves office goers. Customers can place orders through its Android app and the company claims that food will be delivered within 30 minutes. It offers options such as Rajma Rice, Chicken Rice, Aloo Paratha and so on.
Yumist claims that its app has been downloaded about 40,000 times already. It currently delivers in Gurgaon, South Delhi and Bangalore.
Yumist had raised an undisclosed amount in seed funding from Orios Venture Partners in February.

App-only players 
In May, Myntra had decided to go app-only by killing its website, a move that evinced mixed reactions from industry watchers. Most e-commerce companies felt it was too early to adopt the app-only route in India.
Dating property Truly Madly, quick service restaurant and delivery chain Faasos and cabs aggregator Ola also stopped web-based transactions to become app-only players.

The debate on the app-only approach recently took an interesting turn with Snapdeal co-founder Kunal Bahl jumping into the discourse. In an interview to The Times of India, Bahl said that Myntra's app-only move was the 'dumbest' and the 'most consumer-unfriendly idea.' Bahl added that 80 per cent of Snapdeal's users said in a recent survey that they wanted the PC site to remain. This is despite Snapdeal getting 75 per cent of its total orders through the mobile platform.
Last month, Zomato co-founder Deepinder Goyal also joined Snapdeal CEO Kunal Bahl in denouncing the app-only strategy adopted by several consumer internet firms.
According to startup analytics firm Tracxn, 31 food-tech startups have so far raised $161.5 million in investments this year, as compared to $66.8 million last year.

But lately, the food-tech space is showing signs of distress as few funded startups have either shut shop or are downsizing operations.
Mobile-only food ordering startup TapCibo Online Solutions Pvt Ltd, which operated under the brand Dazo, decided to close operations earlier this month.
Mumbai-based TinyOwl, which offers a location-based mobile app for ordering food, is shedding jobs.

Cash-strapped SpoonJoy, a food-tech startup that had attracted investment from Flipkart co-founder Sachin Bansal, recently shut down its operations in Delhi and parts of Bangalore. On the other hand, food ordering marketplace Foodpanda is revoking over 500 restaurants every month as it deals with allegations of operational irregularities.
---