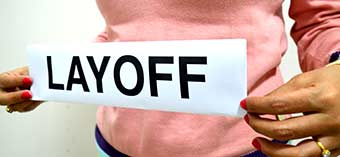 US-based online selling platform eBay Inc has laid off the entire product and technology team from its India development centre in Bengaluru, citing a review in operational structure.
A spokesperson for the company confirmed the development.
"As a normal course of business, eBay regularly reviews its operational structure and today we announced some changes to our global product and technology team. As a result, we are reducing our overall technology workforce in Bangalore and shifting work to other global centers around the world," the spokesperson said in an emailed statement to TechCircle on Wednesday.
The development was first reported by technology news portal Tech in Asia, which said that except for 15 people who could be moving to the US, the entire product and tech team had been laid off.
Nearly 30% employees in the development centre have been given the pink slip, a company executive told TechCircle, requesting anonymity. The exact number of people rendered jobless could not be ascertained.
eBay has mainly two divisions in the country—a marketplace, which is based in Mumbai, and the development centre in Bengaluru. The development centre is divided into two teams—core product and development, and analytics.
The entire product and tech team has been fired because their work has been transferred to another global location for "better synergy". Last year, 50 employees were fired from this centre, the Tech in Asia report said. The analytics team has not been affected by this move. eBay had set up its global development centre in Bengaluru in 2013.
The company spokesperson also said that the Bengaluru centre will now focus on eBay India-dedicated product and development work. "We remain committed to India and will continue to invest in core product and technology development for eBay India," the spokesperson said.
eBay has been in news for layoffs both in India and globally. In February last year, the company had laid off almost 350 people from its marketplace and PayPal, which it acquired in 2002 for $1.5 billion. The previous month, the company warned that it planned to reduce its global workforce by 2,400 jobs in the first quarter of the year.
eBay joins another US tech company in downsizing its Bengaluru operations. In September, microblogging site Twitter Inc had decided to stop global engineering work at its Bengaluru development centre.
The Indian consumer Internet sector has seen a slew of layoffs this year. Cab aggregator Ola let go nearly 1,000 employees this year when it shut down TaxiForSure, while e-commerce giant Flipkart fired about 700 people in July to cut costs. Classifieds listing site Quikr fired 150-200 CommonFloor employees earlier this year as it integrated workforce of the two companies.
---