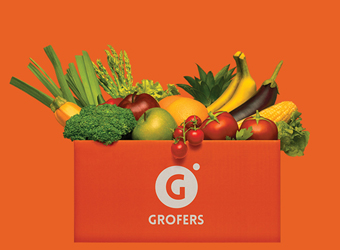 Locodel Solutions Pvt Ltd, the company behind hyperlocal delivery startup Grofers, reported a sharp drop in revenue and a multifold jump in losses for 2015-16.
Revenue for the year through March 2016 fell 32% to Rs 58.34 lakh from Rs 86.38 lakh the previous year, the company's annual report filed with the Registrar of Companies shows.
Net loss widened 15 times to Rs 60.87 crore from Rs 3.9 crore. Total expenses surged to Rs 61.45 crore from Rs 4.77 crore, the report shows.
The numbers may not be directly comparable as Locodel transferred its entire business to Grofers India Pvt. Ltd on 30 June 2015, Locodel's annual report shows. Grofers India hasn't yet filed its annual report for 2015-16. Locodel and Grofers India are related companies and have a common board of directors.
Grofers, founded by Saurabh Kumar and Albinder Dhindsa in 2013, had expanded quickly and became the most funded hyperlocal grocery delivery startup as investors including Japan's SoftBank Group Corp poured money into it.
The company, which allows users to order grocery, electronic goods and other products, has mobilised nearly $200 million till date. This includes the $120 million it raised in November 2015 from SoftBank, Tiger Global, Sequoia Capital and other investors.
But the rapid expansion and high costs subsequently forced it to curtail operations, lay off staff and tweak its business model.
In January 2016, Grofers shut its operations in nine cities where it didn't see any traction despite running costly marketing campaigns.
Six months later, in June 2016, Grofers laid off some employees and revoked campus job offers as part of an operational restructuring.
Grofers also tweaked its business model to cut costs. The company earlier operated on a marketplace model and then shifted to a 70% inventory-led business where it sources products from different brands directly and stores them in its warehouses for delivery. The company invested $12 million on building the warehouses and fixing the supply chain.
The company still services 30% orders through its marketplace, where retailers take care of the last-mile delivery.
Grofers' biggest competitor is BigBasket, operated by Bengaluru-based SuperMarket Grocery Supplies Pvt Ltd.
BigBasket's revenue tripled to Rs 563 crore for the financial year ended March 2016 while net loss expanded to Rs 277 crore from Rs 61 crore.
BigBasket operates through an inventory-led model and runs warehouses in different cities. It raised $150 million in an expanded round of funding led by the UAE-based private equity investor Abraaj Group in March 2016.
The hyperlocal delivery segment faced tough times last year as funds from investors dried up, margins remained wafer-thin and cash burn stayed high. At least half a dozen startups in the segment shut shop in 2016 alone. Snapdeal-backed PepperTap, for instance, shut its grocery delivery operations to focus on its logistics business. Mumbai-based online supermarket LocalBanya stopped taking orders in October 2015.
The grocery e-tailing market is gearing up for more competition. Homegrown e-commerce firm Flipkart plans to take a second attempt at the grocery business. In February 2016, Flipkart had shut down its grocery delivery app Nearby, five months after it was launched in Bengaluru. In 2016, Amazon launched grocery app Amazon Now in Bengaluru.
Note:- This article has been updated to include additional information from the annual report.
---