Flipkart, Amazon drop $1 bn Souq acquisition bid: Report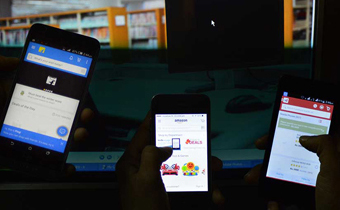 US-based Amazon.com Inc and Indian online retailer Flipkart have dropped a bid to acquire Middle East-based horizontal e-commerce venture Souq.com due to a disagreement over price, Bloomberg reported on Wednesday.
Souq.com has now reached out to Dubai-based mall company Majid Al Futtaim, the report said, citing two people aware of the development.
Amazon had started discussions with the UAE-based company last year for a deal with a potential value of $1 billion, the report said.
Souq.com counts New York-based Tiger Global Management and South Africa's Naspers Ltd among its investors. Both Tiger Global and Naspers are also investors in Flipkart.
In March last year, Souq.com secured funding worth more than $275 million from Tiger Global, Naspers and other investors. The funding valued the e-commerce company at $1 billion.
Founded in 2005, Souq.com was previously an auction site on Arab Internet website Maktoob. In 2009, Maktoob got acquired by Yahoo! but Souq.com was not part of the acquisition and was spun off as part of Jabbar Internet Group. The site then switched to a marketplace with a fixed-price model in early 2011 and launched its retail division in late 2011.
The development comes at a time when Flipkart has been working to set its house in order. Last week, the company underwent a organisational rejig that saw former Tiger Global executive Kalyan Krishnamurthy being appointed as the CEO.
For Flipkart, 2016 was a difficult year as it saw many senior-level exits and several markdowns in its valuation. From its peak valuation of $15.2 billion in 2015, Flipkart's value fell to as low as $5.57 billion in 2016.
The company reported a net loss of Rs 5,768.8 crore for 2015-16, but revenue grew 50% year-on-year to Rs 15,403.3 crore.
Flipkart was reportedly in talks with US retailer Wal-Mart Stores Inc. for an equity partnership. However, no announcement has been made yet, and media reports recently said the talks may have fallen through. The firm was also reportedly in talks with investment bank Goldman Sachs to raise funds.
Flipkart's main rival is Amazon India, which saw its losses widen for 2015-16. Amazon India's losses widened to Rs 3,572 crore in 2015-16 from Rs 1,724 crore the previous year, and revenues jumped to Rs 2,275 crore from Rs 1,022 crore.
Amazon.com Inc last month invested Rs 2,010 crore more in its India unit. The company has committed a total of $5 billion for India.
Comment(s)