How Droom became a formidable force by keeping its eyes firmly on the road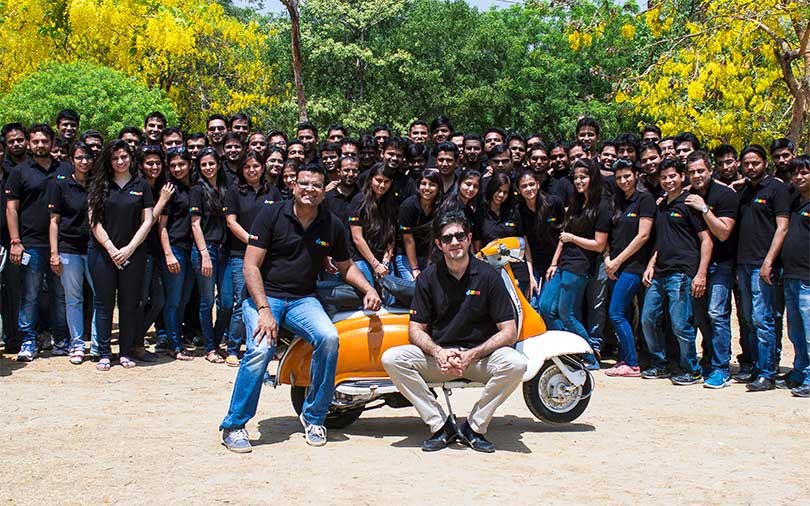 Last week, online vehicles marketplace Droom secured $30 million (around Rs 220 crore) in a Series E round of funding, less than five months after receiving a similar amount in its Series D round.
The twin fundraises in 2018 mean that Droom has now raised around $125 million since chief executive officer Sandeep Aggarwal founded the company in 2014.
Along the way, it has assembled a large pool of investors, ranging from a unit of automobile major Toyota to venture capital firm Lightbox, which is known to be selective. It is also backed by Asia-focussed investors such as Ellison Investments, Integrated Asset Management Asia, Beenext, Beenos, and Digital Garage.

All this coupled with rapid growth has fuelled Droom's ambitions of going public in the next couple of years.
So, what exactly is Droom doing right?
If you ask Aggarwal, diversification is perhaps Droom's biggest asset. The Gurugram-headquartered company operates in a space which has several well-funded players such as Cars24, CarDekho and CarTrade. But Droom's focus on a segment which has fewer wheels but significantly higher volumes is giving it a leg-up.

"Most of the companies in this space cater to cars. In India, we sell 3 million new cars and 4.5 million used cars which brings us to a total of 7.5 million." Aggarwal told TechCircle. "But on the other hand, we sell 18 million two-wheelers and 27 million used two-wheelers for a total of 45 million. So with the horizontal business model, we are talking of a market that is six times bigger."
While announcing its fundraise last week, Droom claimed to have 75% share in the online automobile transaction market, generating close to $750 million in gross revenue. It aims to double its gross merchandise value - GMV, or total value of goods and services sold - to $1.4 billion by the end of 2018 and $3.5 billion by 2019.
To lend some context, e-commerce giant Flipkart, which caters to a much wider audience, recorded a GMV of $7.5 billion in the financial year 2017-18.

According to Aggarwal, who earlier founded e-commerce site ShopClues, the back-to-back funding rounds underline Droom's dominant position.
Financial performance
Droom's main source of revenue is the service fee it charges for every successful transaction. This, along with premium services and advertisements, have helped it record consistent growth.

The company's India-registered arm, Droom Technology Pvt. Ltd, had clocked operational revenues of Rs 32.36 crore in the financial year 2016-17, according to News Corp VCCircle's research arm VCCEdge. This was higher than CarTrade's net revenue and more than double the Rs 14.8 crore it had posted in the previous fiscal.
Likewise, gross expenditures also grew to Rs 84.15 crore, up from Rs 31.13 crore the previous year. Consequently, net losses widened to Rs 50.2 crore, more than tripling from Rs 14.14 crore in 2015-16.
This may not accurately depict the financial health of the company as Droom files its consolidated statements at its Singapore-registered entity.

Aggarwal had earlier told The Economic Times that Droom had closed the financial year 2017-18 with net revenue of $11 million (worth Rs 71 crore as of March 31 2018), up from $3.8 million in the year-ago period.
The company is yet to formally file its latest financial statements, but Aggarwal had told TechCircle in May that it was less than a year from turning "fully profitable".
Focus on services

To reach where it is today, Droom has had to deal with several moving parts.
A VCCircle analysis earlier this year had found trust to be a major obstacle in the sector. This had prompted online vehicles marketplaces to get more involved by taking full responsibility for products listed on their platforms.
While some players have switched to an inventory model, Droom has stuck with a customer-to-customer approach but offers services that are close to taking full ownership. It conducts extensive verification to help buyers working with offline dealers as part of efforts to ensure standardisation, apart from providing services such as a fair value calculator, roadside assistance and auto loans.
Droom plans to use its latest infusion to boost its inspection and certification services as well as its credit offering, Droom Credit.
"It is an end-to-end automated marketplace where a user can get a loan decision in 30 seconds. It's completely paperless processes," said Aggarwal. "We have been working with several financial institutions including NBFCs [non-banking financial companies] and banks for its functioning."
Navin Honagudi, investment director at early-stage investor Kae Capital, feels this end-to-end approach has been key to Droom's success.
"Until two-three years ago, it was only CarDekho and CarTrade in this segment as industry leaders besides [general classifieds platforms] OLX and Quikr. All of them essentially are classified models where they connect buyers and sellers, earning revenue from advertisements. But what was missing was an end-to-end experience of purchase and sale," said Honagudi. Kae Capital is an investor Droom's competitor Truebil, which raised fresh capital on Wednesday.
Vinod Murali, managing partner at venture debt firm Alteria Capital, agrees.
"The biggest concern in such a secondary trade market was that you had to be comfortable with the quality of the vehicle, for which you had to always be in the mercy of the middlemen," he said. "But over time, this issue is slowly getting solved and you have levels of quality validations coming in."
Another factor in Droom's growth story has been technology, with the company investing heavily in data science. Aggarwal has previously said that he views Droom as essentially a product technology and data science company rather than an automobiles venture
The company is now looking to boost its machine learning and artificial intelligence capabilities, which will be developed in-house as 50% of its employees are product engineers.
Global ambitions
Droom now has a presence in over 500 Indian cities and while Aggarwal sees domestic opportunities growing, the company also wants to go global. With several of its investors focussed on southeast Asia, Droom is naturally looking in that direction.
Aggarwal had earlier said that Droom will be operational in Thailand and Malaysia by the end of this year. Also on the radar are Indonesia, Vietnam, Malaysia, Thailand, Singapore, Cambodia, Myanmar, Laos and the Philippines.
Inorganic growth is also on the table. Aggarwal said Droom is open to making acquisitions but hasn't found suitable candidates yet. He also foresees consolidation in the space.
"Since we started, there were eight companies in this category who were meaningful and three of them have ceased to exist - ZigWheels, Gaadi.com and CarWale (all were acquired)," he said. "If you are a standalone car player, there is not much money that can be made. Selling only cars does not have very high-profit margins businesses but selling cars along with loan, insurance, certification services etc becomes more meaningful."
---