Tiger Global buys into agri-tech, Sequoia dominates dealmaking across sectors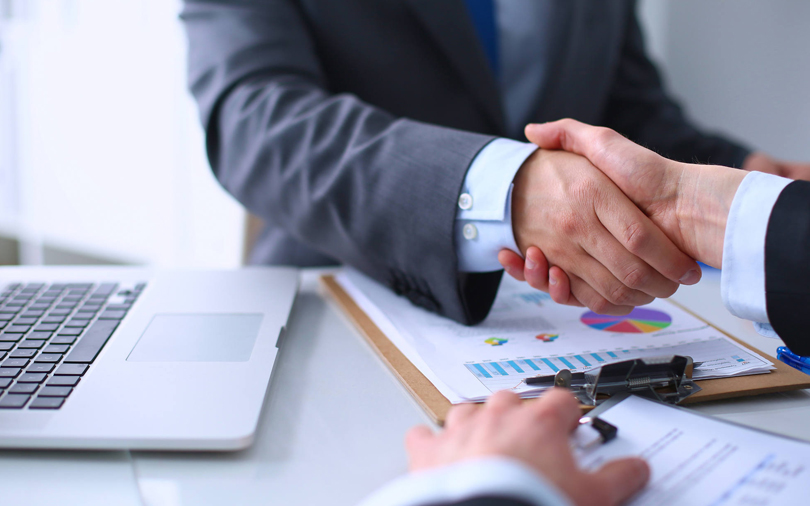 Tiger Global Management, a New York-based investment firm best known here for its early bet on homegrown e-commerce player Flipkart, has returned to India's startup market after a hiatus of more than three years. The firm, which globally invests in public and private markets from hedge funds and venture capital funds that it manages, is known for its swift dealmaking style, often at valuations speculated to be well above market levels.
In the past, that strategy has had both positive and negative repercussions on the local startup ecosystem, including the venture capital industry that has often found it hard to keep pace with Tiger Global's investment spree. These are early days, but the firm's return should spell another interesting and definitive phase for the world's fastest-growing startup market.
Overall, 13 technology startups raised $214.69 million (Rs 1503.27 crore) this week, a significant improvement from funding activity last week. However, this week's tally still lags the 18 deals worth $410 million that were concluded in the second week of this month.

Among investors, storied venture capital firm Sequoia Capital was the most prolific, with a presence in four of the 13 deals concluded during the week.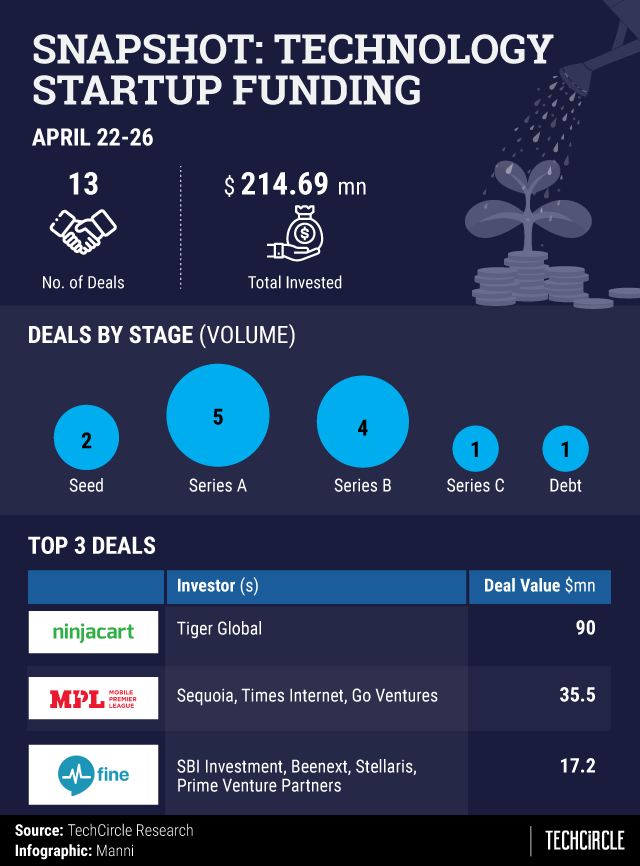 Deal of the week: NinjaCart

The agri-tech sector, which has on an average seen a couple of deals every month since the beginning of this year, found itself in the spotlight this week when business-to-business (B2B) agri-tech marketplace NinjaCart scored $90 million from Tiger Global.
Read: Tiger Global parks $90 million in NinjaCart
NinjaCart, in which Tiger Global now owns a 26.47% stake, also saw its valuation vault more than three-fold to $321 million, by TechCircle estimates. The latest funding comes less than four months after it raised a $35 million Series B round. The latest infusion is likely to be used primarily for geographical expansion, going by its recent foray into three new markets.

Tiger Global has in recent months also bet on customer lifecycle management platform CleverTap, ride-hailing platform Ola's electric vehicle arm (Ola is part of its existing investment portfolio) and expense management startup Fyle. Its investment in NinjaCart may be just the impetus that the under-the-radar agri-tech sector needs to go mainstream.
More money for online gaming
Investors can't get enough of gaming startups. This week, digital gaming startup Mobile Premier League (MPL) raised $35.5 million (Rs 250 crore then) in a Series A round that saw the participation of Sequoia Capital India, Times Internet and GoVentures, the venture capital arm of Indonesian ride-hailing Go-Jek.

The newly launched mobile gaming platform will use the capital for product development and to boost user growth in India. It had secured $5 million from Sequoia in November last year.
MPL's funding follows Mumbai-based Dream 11, which earlier this month saw Hong Kong-based hedge fund Steadview Capital join its investor pool via a secondary transaction. The deal catapulted it to unicorn status.
Urban mobility startups hit purple patch

This week also saw two startups in the urban mobility space secure respectable rounds of funding. The space, which has long been dominated by the likes of Ola and Uber, has begun to see the emergence of players such as Vogo and Bounce that address specific problems in urban commute.
Bengaluru-based Quick Ride, which operates a mobile app for car- and bike-pooling services, raised $14.3 million (Rs 100.78 crore at current exchange rate) in a fresh funding round from South African technology conglomerate Naspers as well as venture capital firms Sequoia and Venture Highway. Founded in 2015, the startup offers a mobile app that helps commuters with carpooling and bike-pooling in real time.
Roppen Transportation Services Pvt. Ltd, which operates bike taxi startup Rapido, raised $11.19 million (Rs 78.23 crore at current exchange rates) in a funding round led by new investor Nexus Venture Partners.

Bounce, which runs a dockless scooter and bicycle rental platform, raised $3 million (around Rs 20.8 crore) in venture debt from InnoVen Capital. This comes less than a month after it raised the same sum from Flipkart co-founder Sachin Bansal.
Fintech, healthtech and ed-tech
While technology-enabled financial services businesses have now become investor favourites, similar businesses in healthcare and education are also beginning to climb the charts. All three sectors saw several deals this week.
Consolidation
The week also saw three acquisition deals.
Tiger Global-backed Quikr India Pvt. Ltd bought used-goods marketplace Zefo, even as the online classifieds platform continues to depend on an acquisitions-led strategy to drive growth.
European intellectual property consulting firm Zacco acquired Coimbatore-based Lakhshya Cyber Security Labs Pvt. Ltd. The acquisition marks an important step for Zacco in establishing a global cybersecurity centre in India, the Scandinavian company said.
Japanese medical information portal M3 Inc. acquired a majority stake in Bengaluru-based DailyRounds, a provider of mobile- and web-based applications for doctors and medical students, for an undisclosed sum.
---