Lockdown spurs angel investor platform Mumbai Angels to accelerate dealmaking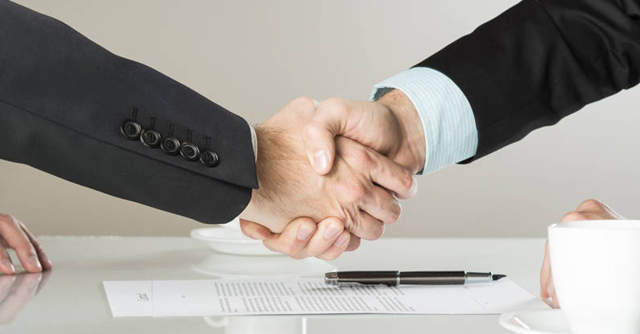 On Monday, Mumbai Angels Network announced its latest deal this year with an undisclosed investment in digital content platform Knocksense. The deal marked the angel-to-seed investment platform's tenth deal this year and its ninth since the country shut down on account of the Covid-19 pandemic.
The deal run this year is in stark contrast to the platform's dealmaking pace during the same period last year, when the tally stood at just three deals.
The robust dealmaking is in line with overall angel investing trends during the lockdown. Since January, angel investors across the spectrum have closed 103 deals, of which 69 were struck when the lockdown was at its peak. Most other early stage investors, specifically those focused on investment stages from seed to Series A and beyond, exercised reserve with respect to new and follow-on deals during that period.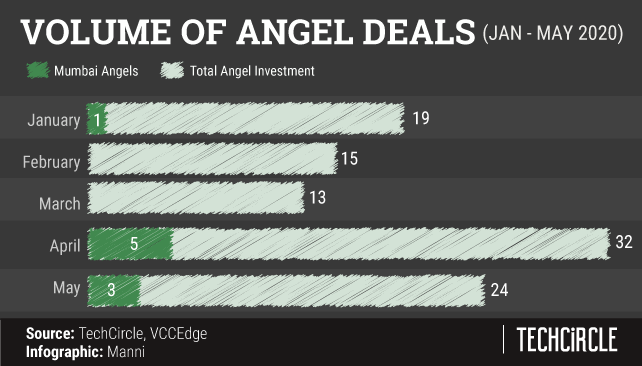 Incidentally, while Mumbai Angels closed just one deal in January, the remaining nine came after April, post-lockdown.
"In the past two months, one of the key learnings we have got is that there is no slowdown in investing if investors have well curated startups backed by due diligence," Nandini Mansinghka, co-promoter and CEO of Mumbai Angels, told TechCircle.

Most of the startups that drew funding from the platform during the lockdown aren't older than 2-3 years and run across sectors such as fintech, agritech, edtech, media-tech and co-living. Some of the deals during the period include eco-friendly tourism startup Blive, electric car charging solutions provider Charge+Zone and edtech platform Any Time Classes (ATC).
Portfolio diversification is the key according to Mansinghka. "Our investment strategy involves regular investing and diversification of our portfolio," she said.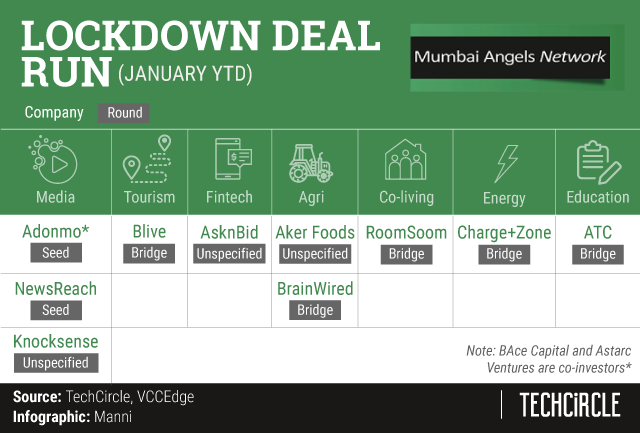 Also, in nine out of the 10 deals struck this year, Mumbai Angels was the only investor in the round. The only exception was advertising platform AdOnMo was the only deal which saw the participation of investors such as BAce Capital, an affiliate of Hangzhou headquartered Alibaba Group and Ant Financial, and venture capital firm Astarc Ventures.
The overall startup ecosystem was hit by a double whammy of a dearth of early stage funding and loss of revenues due to their inability to run operations during the pandemic-induced lockdown. This also led to massive layoffs by some of the biggest players, especially in the consumer internet sector. Established and well funded startups such as Ola, Uber, Swiggy, Zomato, Oyo, Udaan and Lendingkart have all had to cut costs and lay off employees to survive the lockdown.
In the initial reaction to the crisis, startup funding dried by as much as about 85% in the second week of March with investments dropping to as low as $20.5 million. Although investments subsequently did resume, overall dealmaking has remained stagnant with a shift in focus on aspects such as adaptability and cost-effectiveness.

Despite the worsening investor sentiment and business activity, valuations of startups with sound business models are not significantly impacted, according to Mansinghka. Rather, investors are focusing on the durability of the businesses, ability to achieve revenue targets without excessive cash burn and those adjusting to the new normal, she added.
"For startups clearing this litmus test, funding will never be an issue," she said, adding that at any given point of time, more than 10% of Mumbai Angels' portfolio companies are in discussions to raise capital.
The angel investment platform currently has over 140 startups in its portfolio and some of its prior notable bets include cloud-based marketing platform inMobi, online beauty products startup Purplle, edtech platform Funtoot and ecommerce startup Myntra.

---