The Covid-19 pandemic has hit the industries hard. Creating a black swan situation, this one is already teaching us important lessons. But the most critical of those lessons is the need for tremendously upgraded skill sets to meet the new post-Covid business scenario.
According to a recent global survey, conducted by Randstad Sourceright, of more than 800 human capital and C-suite leaders around the world, just 31% said their companies were prepared to adapt to the Covid-19 and post Covid scenario.
To meet business needs of the new normal, it's imperative to understand what's changed during this time in the business environment. The number of cases will impact the business. In fact, with increasing positive cases, every small part of every supply chain has been impacted. Today, the customer psyche is difficult to predict. Social media, which used to offer a fairly balanced view into customer thinking processes, has today become very ambiguous.
It would be safe to say that over the next 18 months, upskilling the workforce will play a crucial role in meeting these new changes. Skills will now be more about understanding the new set of issues and addressing them to the core, not merely technology or business abilities. Therefore, the question on our minds is what skills should we start building, continue to invest, and stop focusing on?
We must digitalize: Digital is no longer just for the technically savvy
Digitalization was always imperative, but now it is critical for business survival! The Covid situation has put digital transformation on steroids. Everything that can be digitalized, must be – including the concept of work and human engagement. Why? Because customer and colleague behaviours are changing, and we need to have the 'eyes and ears' in all the touchpoints to gather signals about what is changing.
To do this, the top skills that will be needed are IoT (internet of things), RPA (robotic process automation), and data engineering skills to harvest as much data as we can about operations and customers, and to make it accessible for the entire organization to tap into for functional and cross-functional opportunity mining.
We need more problem hunters: Problem solvers won't exist without problem hunters
Most technical people are trained to solve problems. But today, the bigger need of the hour is to have people skilled at identifying problems. Through digitalization, businesses can pick up all necessary signals about their internal and external eco-system, which is pointless without the skills to find the right pockets of growth and risks. Organisations must invest in talent that can "hunt" for the right patterns and anomalies, thereby finding potential problems and opportunities. Accordingly, they need to define if the offerings are still relevant.
To meet this need, the skills needed are all about machine learning, artificial intelligence and design thinking. Given the amount of uncertainty in the business environment, one significant change is not to merely scratch the surface with pre-built models, but get deeper into solutions. The nature of data analysis and the expertise of technique selection is much more critical in this volatile environment.
Path to success is experimentation: Growth will be found in a set of short-lived pockets.
The movement towards growth will be all about going innovative with opportunities. But the progress has to be pragmatic. Even with the identification of new segments or markets, the roadmap should be about the test and learn. Instead of investing energies, skills and precious resources on a new big idea, it will be a smart move to take a test section, and run pilots.
For instance, moving on omnichannel marketing, there will be an age bracket that will find online purchase a challenge. Taking up a 'statistically sound' group of customers as the test group and a similar set of customers as the control group, both being very comparable - with a similar engagement history, demographic, and other important attributes, could provide insights on whether the new idea is workable. This will help maximize return on investments across the portfolio of new business ideas, minimizing wrong investments and increasing speed of scaling the right ideas.
The skills needed here would be one of the most foundational fields of analytical science – "design of experiments" (DoE in short) – which is about setting up the smallest and fastest trials to learn results with 'confidence' before deciding to scale the idea could be a grand success or a huge failure, but by using basic analytical science, we can establish its efficacy.
Once the good results are ascertained, there will be clear indications of whether it is good to invest in the strategy. There may be a number of such good ideas, but we will need to focus on one or two of the ones that are showing promise.
Time to scale will be key: fast fish will eat the slow fish
The ability to respond to market and scale experiments at the fastest will be a priceless skill. Once the insights are clear on what is working, and which experiment is aligned with the market focused strategy, teams should be able to move swiftly to deliver to market expectations. Businesses such as Netflix and Facebook have shown us that speed to scaling a new idea is one of the most powerful weapons. Many of their new ideas reach customers within a matter of hours or days and not weeks or months.
Agile methodologies are the way forward, and every team should be having the ability to deliver a final product in a phased manner. So, this should give us an ability to scale quickly, and profitably. Clearly, to maintain the speed of the go-to-market after the decisions have been taken, the need of the hour is upskilling of rapid prototyping.
So essentially, the upskilling needs to be in terms of identifying the challenges, filling the voids and then rapidly moving ahead. The top skills required to meet this need are- General purpose coding (coding is no longer just an IT skill), full-stack and agile ways of working mode.
The path ahead
The new market's new demands will require every organization to understand the extent of change in the business environment, and identify opportunities from the challenges this new environment throws out. Putting basic statistical skills to test and learn, organisations can then zero in on the best ideas that promise growth. With the right technology and coding skills, they should be able to identify a model that will allow them to scale fast, in an agile manner, bringing the new offerings to the market. With the global business environment undergoing a sea change, these would be the abilities any company would need, to survive, and even grow.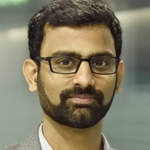 Venkat Raghavan
---
Venkat Raghavan is the associate director – enterprise analytics, Tesco Business Services. The views in this article are his own.
---