Forty-year-old cab driver Ganesh Kumar (name changed) received Rs 3,000 from ride hailing major Uber as part of a Covid-19 financial assistance package in May, two months after the first national lockdown was announced, following an "absurd amount of paperwork".
According to employee unions, Kumar is part of a minority of 'Covid Heroes' who received financial support from their employers amid the pandemic that saw gig workers either lose jobs or put themselves at risk of infection for irregular and relatively low earnings.
The San Francisco, California-based firm is among a host of consumer internet companies in the so-called gig economy to roll out campaigns to support such independent contractors. Companies backed by millions and billions in investor dollars, including ride sharing platform Ola, and food delivery firms Zomato and Swiggy, sought public donations to help their employees tide over the economic crisis.
The Uber Care Driver Fund, created with an initial commitment of Rs 25 crore from the company, is an active campaign on crowdfunding platform Milaap. It has raised about Rs 32 crore so far, with contributions from employees, citizens, NGOs and corporate partners.
It also announced financial assistance to drivers under quarantine, and for those diagnosed and hospitalised with Covid-19, in addition to a hospital cash insurance policy for select drivers.
In an emailed response to TechCircle, Uber said it has donated money to about one lakh driver partners. "The grants are in addition to other livelihood opportunities we created for them during the lockdown through tens of thousands of free rides offered to various state governments, and services like UberMedic, UberEssentials and last mile deliveries," a spokesperson said. Uber said it didn't charge drivers commission for the Covid-related services.
The firm did not provide a breakup of the source of the contributions or the amount spent from the fund towards relief initiatives so far. Details on the number of drivers currently on the platform were not immediately available.
Employee unions, on the other hand, claim that the beneficiaries of these campaigns are not gig workers, but the companies themselves. The initiatives are "opportunistic marketing ploys that offer no lasting solutions to the workers," they said.
Shaik Salauddin, national general secretary of the Indian Federation of App Based Transport Workers (IFAT), said that Uber has no data to prove that it has provided any Covid-19 financial aid.
"We asked the heads of these companies, like Pradeep Parameswaran (head of operations for the Asia Pacific region at Uber) and Bhavish Aggarwal (CEO of Ola) to share data on how many drivers they have actually helped during this period. They have not responded," he said.
"Also, what's the criteria here? How did they select these drivers (to provide the aid)? This is just a fraction of drivers, what about others?" he said.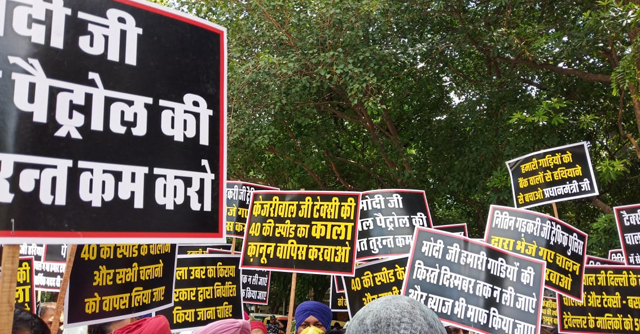 Cab drivers protest in New Delhi | Photo Credit: Anonymous protesters
While rival Ola did not offer cash grants, it announced micro loans between Rs 500 and Rs 1,200 per week. The loans are part of a micro-credit initiative called Ola Sahyog, which the Bengaluru-based company launched in partnership with microfinance firm Avail Finance. Incidentally, the fintech company was founded in 2017 by Ankush Aggarwal, Ola founder Bhavish Aggarwal's brother.
Ola's Covid-19 fund, called Drive The Driver, was launched in March under its social welfare arm Ola Foundation. It claimed to extend support to the driver community, irrespective of the platform they served on. At Rs 25.72 crore, the active fund has currently raised more than half of its Rs 50 crore target.
"The thrust when it came to the driver community was to ensure that they had immediate access to funds to overcome the income shock brought upon by the lockdowns and also help them and their families with adequate health cover. The intention behind the fund was to provide short term and long term assistance to the driver community as they continue to recover from the impact of the crisis," an Ola spokesperson said.
The homegrown company, which has 2.5 million drivers on its platform, claimed the fund has positively impacted 55,918 families, enabling 9.3 million meals and aiding 843 medical emergencies across 25 cities.
"Utilising the contributions made to the fund, the Ola Foundation set up 200 locations to distribute care packages with essentials comprising food staples, including rice, flour and lentils, sufficient to feed a family of four for two weeks," Ola said.
It claimed the fund also covered hospital bills, facilitated emergency medical support for chronic and acute illnesses, pregnancies, diabetes and heart conditions, along with medications and other related expenditure. The company said it offers coverage of up to Rs 30,000 for driver partners and their spouses affected by Covid-19, where they will receive a compensation of Rs 1,000 per day for a maximum of 21 days from the diagnosis date.
Ola too, however, declined to provide details on the number of drivers on its platform who tested positive for the virus, the breakup of cash grants vs loans, and the total amount spent towards Covid-19 relief.
Tanveer Pasha, president of Ola Uber Drivers and Owners' Association in Bengaluru, said: "Most drivers have not received any compensation. As an interim measure, we asked them (Ola and Uber) to return the deposit they collected from the drivers at the time of signing up -- they refused to do that."
"The grocery kits and financial assistance offered to their workers, who have no minimum income guarantee, are almost negligible. But if you look at the promotions and publicity, it looks like these companies have been safeguarding the drivers and their families all through the crisis. In reality, these are just marketing exercises," he said.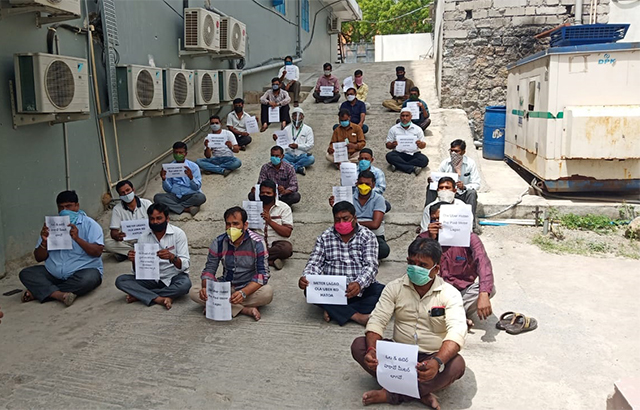 Cab drivers protest in Hyderabad | Photo Credit: Anonymous protesters
Naspers-backed food delivery platform Swiggy said its Covid-19 fund, dubbed Swiggy Hunger Savior Covid Relief Fund, has raised Rs 6 crore. Internal stakeholders, including founders, senior leaders, employees, investors and customers contributed to more than 90% of the total fund, it said, adding that co-founder Sriharsha Majety committed 50% of his annual salary towards this fund.
"The relief fund was primarily created and is being used to support delivery partners with financial protection through income protection insurance, sustenance support for the ones facing any hardships, particularly in cities that were completely shut, and coverage for all medical/hospitalisation expenses related to COVID-19, not just for delivery partners but also their family members," a Swiggy spokesperson said.
The six-year-old startup claims to have assured a minimum daily guaranteed earning for delivery partners, irrespective of the number of orders they delivered in areas that allowed it as an essential service during the lockdown.
"In addition to a cashless treatment at a partner hospital, any active Swiggy delivery partner, who unfortunately tests positive, will be covered for the loss of probable expected payout for 14 days through our special Covid top-up insurance for hospitalised cases," the spokesperson said.
However, the startup declined to disclose the number of Covid-19 cases among its delivery fleet and the amount disbursed as cash grants.
Swiggy delivery partners, meanwhile, alleged that the company rejigged their pay structures in June, which has resulted in a significant dip in their earnings. Several protests have broken out across the country to challenge Swiggy's move to lower the basic pay per delivery amount.
In fact, unions representing gig workers in Kochi are preparing to take the matter to court, a delivery partner from the city told TechCircle. Those part of the indefinite protests in Hyderabad said the company hiked delivery fee for customers, but the benefit did not pass on to the delivery personnel. They also sought the reinstatement of the earlier payment system.
In response to TechCircle queries, Swiggy said: "In June, we introduced a standardised payout structure for all delivery partners across the country. The system offers new incentive slabs, allowing partners to receive better incentives based on the overall deliveries. This enables more number of delivery partners to achieve their targets and also makes it simpler for them to understand what they need to do to earn more on the platform."
TechCircle could not independently verify the difference in pay structures before and after June.
Swiggy and Zomato said their businesses have recovered to 60-80% and 75-80% of pre-Covid order values, respectively.
While most of these companies claim to provide insurance covers to their contract workers, a recent survey conducted by IFAT, in collaboration with the International Transport Workers' Federation (ITF), showed that 95.3% of gig workers are not covered under any form of insurance. They face hazardous health issues due to long work hours and insufficient rest, the study said.
"We demand the companies to give us data on how many drivers on their network are eligible for Covid-19 insurance. As a matter of fact, most drivers are not aware of any insurance, these companies have not collected any documents, nor have they done any paperwork regarding this. Drivers have not received any insurance card or document from the company regarding this, so how will anyone claim insurance?" IFAT's Salauddin said.
Ola, Uber and Swiggy declined to respond to specific queries, such as the eligibility criteria to receive relief funds, the safety mechanisms in place to ensure transparency in funds that involve public contributions, and the number of employees and spouses covered under the Covid-19 insurance plans.
Zomato did not respond to any of TechCircle's queries.
Salauddin added: "The companies are announcing so many initiatives, but we are asking for transparency. Not just the workers, even the donors are asking for transparency about their contributions. They want to know where their money went."
IFAT is currently collecting data from gig workers across the country to prepare a report on the relief measures taken by app-based platforms to help their employees amid the pandemic.
---