Mumbai-based Just Dial Ltd, which runs an India-specific local business listing site Justdial.com and went public early this year, is planning to launch an e-commerce marketplace of its own. To begin with, the company will offer products in popular categories like mobiles and electronics, but will not do the fulfilment of the orders. For those who don't already know, order fulfilment is basically the complete process from getting a sales inquiry on the site to the final delivery of a product to the customer, either through third party logistics or self delivery.
In addition, the company will also start offering flower delivery, and in this case as well, the fulfilment of orders will be handled by the vendors themselves, sources close to the development told Techcircle.in. Whether the marketplace and online flower sale will be launched as a section on the existing site, or as a sister vertical, is not clear as of now. Just Dial's direct competitors in India, Getit.in and Sulekha.com have also added marketplaces to their respective sites.
"Consistent with our strategy to provide users with the convenience of doing transactions that are an extension of the search process, we are in the process of developing various products that are in different stages of development. We expect some them to be ready soon," said Ramkumar Krishnamachari, chief financial officer (CFO) at Just Dial.
The firm currently has three revenue streams, including ads and paid listings on its platform and the recently added online food ordering feature.
In August this year, VSS Mani, founder, Just Dial told Techcircle.in that the company is working on a slew of new revenue channels, with a few are expected to be added to the platform by the end of this financial year. "The company has in store more than half-a-dozen new revenue streams, including online cab booking, movie ticket booking and doctor appointment, to begin with. The site will see at least two of them go live by the end of this year," he had said at the time.
The addition of an e-commerce marketplace and flower delivery will further expand the bouquet of services offered by Just Dial and would pitch it against a host of other consumer internet firms, many of which are VC backed.
For flower deliveries, the firm will compete with the likes of flower gifting firm Flora2000 Gifting & Design Pvt Ltd, an entrepreneurial venture of active angel investor Rehan Yar Khan, that owns and operates Goldboxx.in; and Ferns N Petals Pvt Ltd, which runs the flower delivery and gifting portal FNP.com. But the real competition will come in the e-commerce marketplace space, which is currently dominated big wigs like Flipkart.com and Snapdeal.com, as well as other players like the trouble-ridden Shopclues.com and Infibeam.com, among others.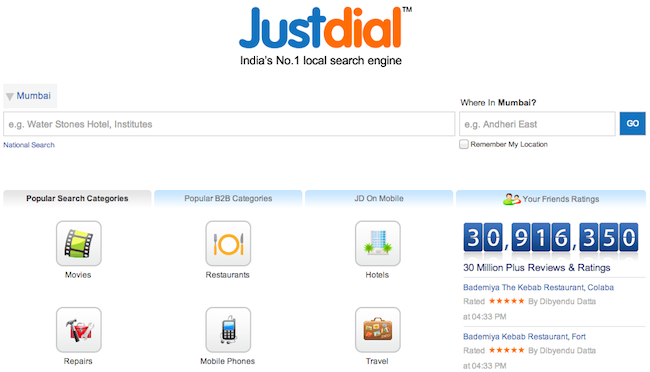 It will be interesting to see how Just Dial takes on these players. The firm will definitely have an upper hand in getting vendors on board its marketplace, since most of them must already be signed up on Justdial.com. But we feel it will have to do something different than simply launching a marketplace (like the ones already present), to get customer attention.
Recently, Just Dial crossed a significant milestone, when its share price almost doubled from its public issue price crossing the $1 billion market capitalisation mark, barely four months after going public. Its share price has since retraced its steps and last traded at Rs 874.85 a unit, up 1 per cent on the BSE in a weak Mumbai market on Tuesday. The markets were closed for trading on Wednesday.
Other e-com pivots in India
While Just Dial addition of a marketplace is not exactly a pivot, off late, a number of e-commerce sites have been pivoting from their original business models. These pivots could include a complete change in the business model, addition of a new vertical or simply a tweak to the existing business model. In September 2011, Snapdeal.com started transitioning from being a pure online deals site to a full-fledged horizontal e-commerce company via a marketplace model.
Post this, a number of companies followed suit.
Flipkart Online Services Pvt Ltd, which runs Flipkart.com, finally made its marketplace official in Feb this year.
BuyThePrice.com, an e-commerce site owned and operated by Hyderabad-based MyZingo eCommerce Service Pvt Ltd, did a Snapdeal and completely changed its business model from being a pure e-commerce site to a 100 per cent marketplace. The company was later acquired by Tradus.com.
Paytm.com, a site that enables mobile, DTH and data card recharging online, also launched a bus ticketing service under the name Paytm Tickets.
MySmartPrice Web Technology Pvt Ltd, a Hyderabad-based startup that started Mysmartprice.com as a price comparison site for books, seeks to pivot from price comparison to product discovery platform, and for the same, has over the past two years morphed into a broader price comparison site for products across categories.
Bangalore-headquartered Seventymm Services Pvt Ltd, which started as an online DVD rental company almost eight years ago, switched to become an e-commerce site focused on movies. Recently, it pivoted to a pure-play e-commerce venture.
Ahmedabad-based e-commerce firm Infibeam.com also quietly pivoted from being a pure-play e-commerce site to a hybrid venture, which basically means that apart from selling products on its own, it would also allow other vendors to sell the same product with same or different pricing.
In some cases, the pivot was based on realisation that running an inventory-led e-com venture was high on cash burn and shrinking venture capital funding in the business. Interestingly, Infibeam is one of the rare few e-com ventures that are over three years old and has not attracted any institutional funding till date.
---