Flashback 2016: Funded startups that shut shop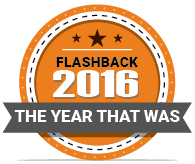 When an unfunded, rookie startup shuts shop, not many are surprised. But one can sense the upheaval when well-oiled, promising startups begin to fail--in that sense, 2016 was a forgettable year for India's tech startups.
At least 32 well-funded tech startups folded up in 2016, compared to merely 17 in 2015, according to a Techcircle analysis. Many of these casualties happened in the food-tech and hyperlocal delivery segments. While some pivoted their business models, others simply pulled the plug on operations. Reasons ranged from poor unit economics and high cash burn to low demand and funding crunch.

Here we take a look at some well-funded startups that could not remain afloat.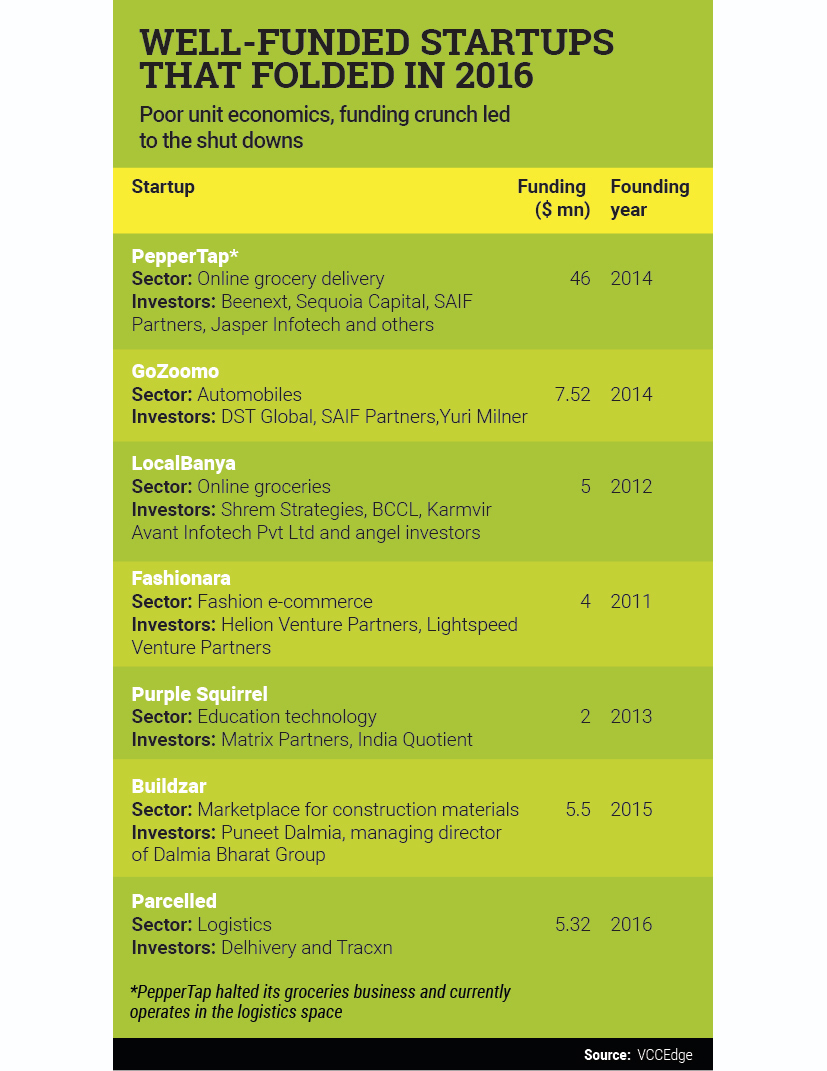 PepperTap The Gurgaon-based hyperlocal delivery startup, once India's third-largest e-grocer, had to close down this year. Run by Nuvo Logitics Pvt Ltd., it was founded by Navneet Singh and Milind Sharma in 2014. Operating in the high-competition, low-margin market that hyperlocal delivery is, it had to shut down its main e-grocery business after months of rapid expansion showed no signs of profitability and deep discounts led to high cash burn. Currently, it is focused on the logistics segment.

PepperTap, which had raised $46 million over its journey, was backed by Beenext, Sequoia, SAIF Partners, Jasper Infotech and others. Its competitors were Grofers and BigBasket.
GoZoomo Run by Youngmonk Technologies Pvt. Ltd, GoZoomo, an online marketplace for pre-owned cars, was founded by IIT Kharagpur alumni Arnav Kumar and Himangshu Hazarika in December 2014. A mobile-based marketplace for used cars, it operated in Bengaluru, Mumbai, Delhi-NCR, Pune and Chennai. The company had raised close to $7 million, primarily from SAIF Partners.
The reason for the shutdown was a failed business model in terms of sustainable business economics. GoZoomo competed with CarTrade, CarDekho, Spinny and Droom in the online used car segment. In January this year, barely a year after launching operations, the company had laid off nearly 35% of its employees.

LocalBanya Founded by Karan Mehrotra, Rashi Choudhary and Amit Naik in 2012, the Mumbai-based online grocery delivery startup was backed by Shrem Strategies; Bennett, Coleman & Co Ltd's Springboard Fund; and Karmvir Avant Infotech Pvt Ltd. It used to offer about 14,000 products across categories such as fruits, vegetables, personal care, household supplies, stationery, etc.
In January this year, the startup, run by MN&C Supply Links Retail Pvt Ltd, tried raising funds from three investors but the talks fell through. Since October 2015, it was trying to pivot its business model, switching from an inventory-led one to a marketplace. However, high cash burn forced it to halt its operations.
LocalBanya was even in talks with shipping services firm Parcelled.in to bring them on board as an equity partner to handle logistics. However, the lack of funds forced the company to close down before the deal could be signed. The startup was also heavily in debt to its lenders, vendors and employees. Local Banya's competitors were Grofers, BigBasket and PepperTap.

Fashionara Founded by former Reliance Trends chief executive Arun Sirdeshmukh and former technology head at Times Internet Ltd Darpan Munjal, Fashionara counted Lightspeed Venture Partners and Helion Venture Partners as its investors. An online fashion store, which sold products of brands like Adidas, Reebok, Benetton and Nautica, had changed its business model in 2014 to become an online marketplace.
TechCircle.in had first reported in May this year that the startup had shuttered likely due to widening losses and a fund crunch. Munjal had left the company in January this year while Sirdeshmukh was hired by Amazon India in June to head the e-commerce company's fashion vertical. Purple Squirrel Mumbai-based Purple Squirrel Eduventures Pvt Ltd., which connected students with industry partners for field visits, workshops and hands-on experiences, shut shop in May this year. It was backed by Matrix Partners and India Quotient. Founded by Aditya Gandhi and Sahiba Dhandhania in September 2013, it was incubated at SINE, IIT Bombay.
The company claimed to have delivered over 5,000 unique experiences in experiential learning, associating with more than 350 campuses and companies, across 12 destinations.

According to a report in Business Standard, one of the challenges faced by the startup was bringing students on board, as many of their target students did not want go to Hyderabad or Chennai but were keen on touristy locations like Goa or Manali. Catering to such students pushed up costs.
Buildzar Gurgaon-based Glow Homes Technologies Pvt. Ltd, which runs Buildzar.com, a business-to-consumer (B2C) marketplace for construction materials, shut shop this month because customer traffic and revenues failed to pick up.
The startup was launched in September 2015 by Vineet Singh and Vivek Sinha. The company raised funds from Dalmia Bharat Group's managing director Puneet Dalmia who made the investment in his personal capacity.

"Buildzar started off as a pure-play B2C ecommerce business. In June, it pivoted to a subscription model. Earlier, we used to generate leads and convert them into transactions ourselves. But, after the pivot, we were just doing lead generation and selling those leads in the market," Singh told TechCircle.in.
The company built traction in the beginning but failed to develop unit economics to sustain itself. Both the co-founders have joined digital wallet firm MobiKwik.
Parcelled Bangalore-based on-demand logistics services provider Parcelled shut shop in June this year. It used to provide courier services by allowing users to schedule a pick-up within 30 minutes for delivery in any part of the world. The startup also handled packaging and paperwork. Product returns to e-commerce firms, gifting and small marketplace sellers used to account for the bulk of Parcelled's delivery operations. Their model eventually became unsustainable at the unit level.
Run by NAXR Logistics Pvt. Ltd., it was founded in January 2016 by Xitij Kothi, Abhishek Srivastava, Nikhil Bansal, Prateek Bhandari and Rikin Kachhia. It counted logistics firm Delhivery and data analytics firm Tracxn Labs as investors.
---