How India's IPO-bound e-grocery players performed in FY20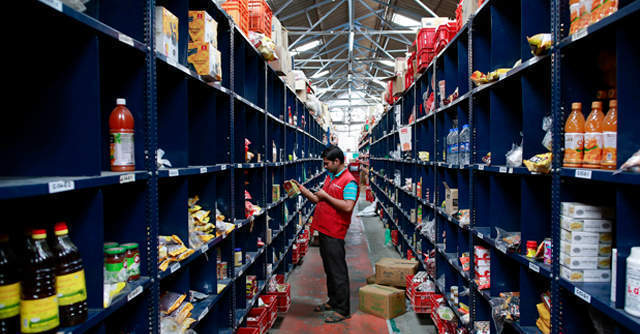 The e-grocery business in India, coming off a growth wave fueled by the COVID-19 pandemic, is currently one of the most watched sectors in the country's booming consumer internet space. The two leading players -- BigBasket and Grofers -- are preparing to go public (according to multiple media reports). At the same time there is also talk that BigBasket is in advanced negotiations with the Tata Group to divest around 50% stake for $1 billion.
This, even as players such as Amazon, Flipkart and Reliance JioMart fashion their own plans for the e-grocery market.
There are good reasons for players of every hue and size scrambling to sell groceries online.

A RedSeer report in November 2020 said the online groceries market was expected to touch a gross merchandise value (GMV) of over $3 billion in 2020 and $18 bn in 2024. The report predicted a CAGR of nearly 60% for online groceries in the lead up to 2024, taking the segment past $18 billion GMV.
"Currently occupying less than half a percentage point in market share, online groceries will grow to more than 2% of India's food and grocery market over the next four years," the report said.
BigBasket and Grofers will report their pandemic year numbers (financial year 2020-2021) in a few months. But, here's a quick look at how they performed in the financial year 2019-2020 (FY20).

BigBasket
BigBasket, which is reported to be mulling an initial public offering (IPO) in 2023, closed FY20 with net losses at Rs 709 crore, against Rs 562.7 crore in the previous year. Supermarket Grocery Supplies, the Bengaluru based company that owns BigBasket, reported a 36% growth in revenues to Rs 3,818 crore against Rs 2,802 crore in FY19.
The company's expenses during the year increased 31% to Rs 4,411 crore from Rs 3,365 crore in the previous year. It spent Rs 343 crore on employee benefit expenses during the year.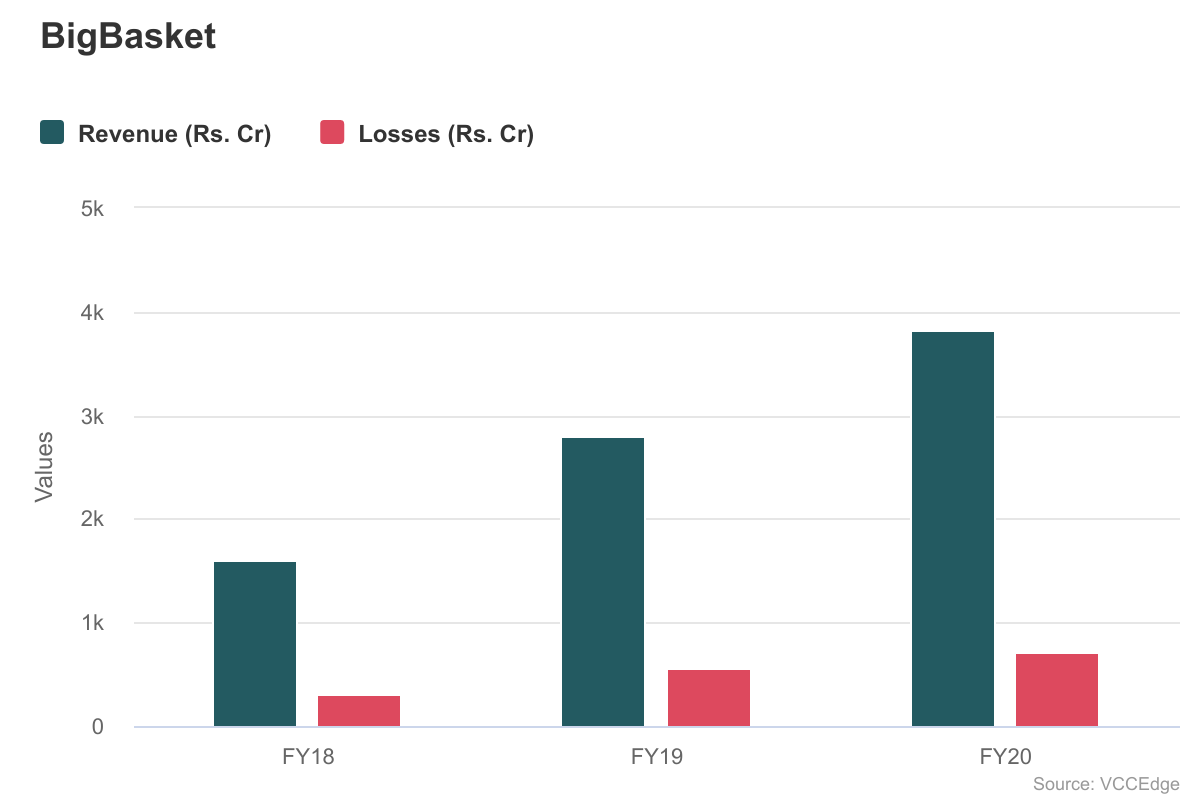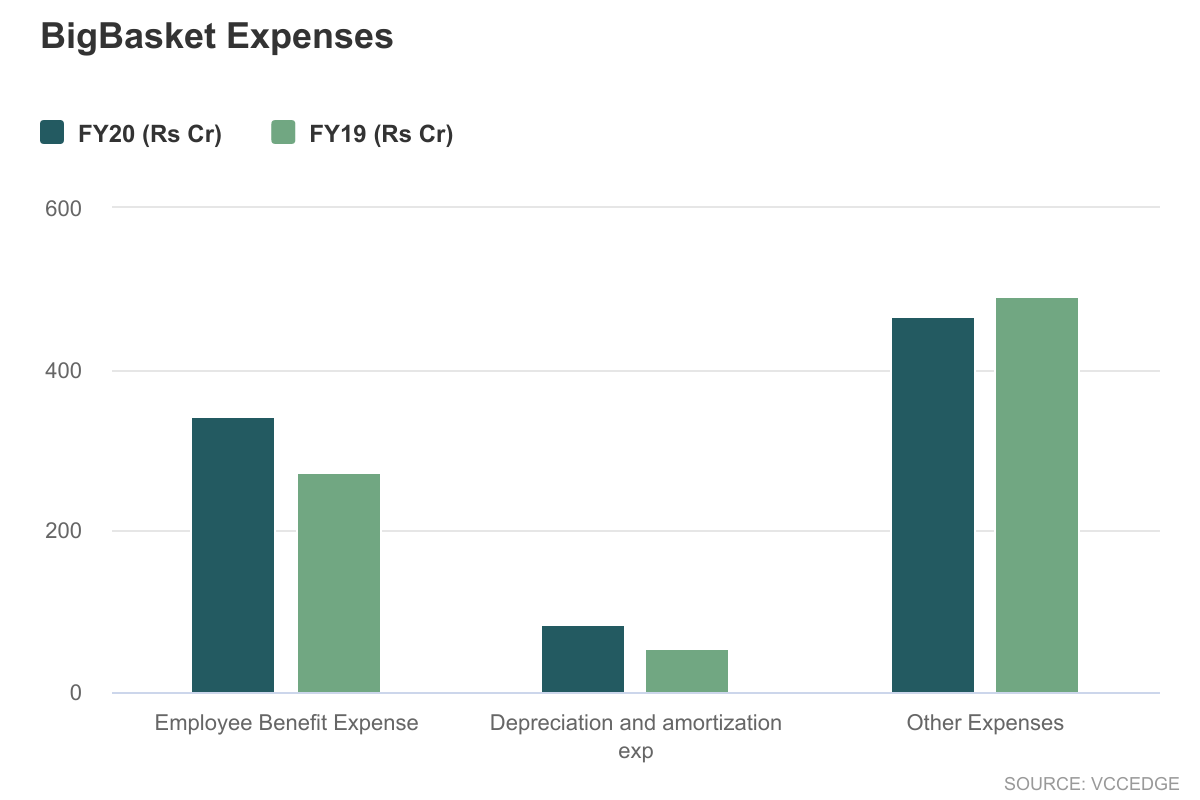 BigBasket is backed by investors such as Alibaba, CDC Group and Trifecta Capital. The company, founded in 2011, has raised a total of $1.1 billion, according to VCCEdge. It last raised capital in April 2020 when it raised $49.4 million in a debt round from existing investor Alibaba Group Holding.

BigBasket declined to comment on TechCircle queries.
Grofers
Grofers, which is backed by investors such as SoftBank, Sequoia Capital and Tiger Global, has a somewhat complex corporate structure.

Gurugram based Grofers India is the online marketplace side of the business that operates the delivery of various products through its e-commerce platform. Then there's Hands On Trades, the B2B arm of the business, which engages in wholesale procurement and sale of the groceries and daily essentials as well commercial and institutional users including retailers. Both companies are subsidiaries of the Singapore based parent holding, Grofers Pte.
According to Grofers India's regulatory filings, the entity widened its losses to Rs 637.4 crore in FY20, against Rs 448 crore in FY19. The company's revenues more than doubled to Rs 176.7 crore in FY20 against Rs 83.6 crore in the previous year. Expenses during the period shot up 53% to Rs 814 crore, a large chunk of which went to advertising and promotion spends.
Grofers, which is reportedly looking at an IPO by the end of this year, believes the money spent on advertising will help in the long run.

"As a platform which uses technology to enable sale of grocery to consumers - for us revenue is the commissions that we make and not the total sales. Rs 175+ crore is the total commission on the sales made by the platform, the actual value of the goods sold on Grofers last year is Rs 3000 crore. The losses that we incur are largely our investments in marketing to create more customer brand awareness and strengthen our delivery partner network," a Grofers spokesperson told TechCircle.
These filings, however, are not representative of Grofers' actual earnings. The Singapore parent entity's filings were not immediately available.
---