Dealmaking activity in the startup ecosystem was led by fairly large funding rounds raised by automobile classifieds platform CarTrade and healthtech platform DocsApp. The week witnessed 16 deals of which 13 raised a total of $88.4 million. The financial details of the rest were not disclosed.
The current week shows better numbers than last, when investors only made bets worth a total of $50 million.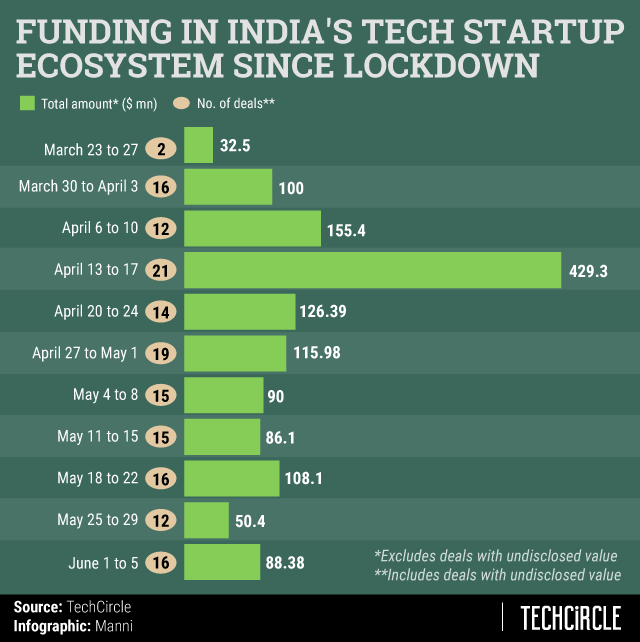 Notably, startups in sectors other than fintech have caught investor attention for the second week in a row.
This week, companies across healthtech, gaming, agritech, logistics and lifestyle raised capital. In terms of investment stage, there was also a mix of nascent-stage deals, such as seed and bridge (pre-Series A) rounds that saw active participation from angel investors, as well as several growth funding rounds.
The period also saw a hybrid deal in DocsApp, which raised funds and merged consumer health platform MediBuddy with itself. Venture capital firm Bessemer Venture Partners was the common investor in the two startups.
Coming to venture capital funds, the parent entity of jobs classified portal Naukri.com Info Edge India said it plans to raise $50 million from limited partners outside the group. This is half of the total corpus of $100 million (around Rs 750 crore) that it wants to raise for its venture capital fund, Info Edge Venture Fund (IEVF), over the next three years, it said.
Earlier today, Abu Dhabi based sovereign firm Mubadala Investment Company infused around $1.2 billion in Reliance Industries' telecom arm Jio Platforms for 1.85% stake in the company. On Wednesday, social media giant Facebook said that it has floated a subsidiary Jaadhu Holdings to acquire a stake in Jio Platforms.
Funding
CarTrade: MXC Solutions India-owned automobile classifieds portal raised $42.5 million in a growth funding round from Singapore state investor Temasek Holdings and private equity firms Warburg Pincus and March Capital Partners. Post deal, Warburg Pincus will become the largest shareholder, controlling 34.74% of the company, followed by Temasek, which will own 26.71%. The company has raised close to $300 million since its inception in 2019.
DocApps: Phasorz Technologies, which operates the online doctor consultation platform, merged with digital consumer health business MediBuddy in a mixed cash and equity deal. The businesses will continue to run as separate entities post the merger. The merged entity raised $20 million in a Series B round led by Bessemer Venture Partners, Fusian Capital, Mitsui Sumimoto (MSIVC) and Beyond Next Ventures. Returning investors Milliways Ventures and Rebright Partners also participated in the round.
Bankbazaar: The loan aggregation platform raised $6 million from new and existing investors in its extended Series D round. WSV, a joint venture fund of Walden International and Korean company SKTA, came in as a new investor in the round. Amazon, Sequoia India, Experian and Eight Roads also chipped in.
IVF Access: The PN IVF Access Hospitals-owned healthcare platform raised $5 million in a Series A funding round from venture capital firm Vertex Ventures Southeast Asia and India. The company will use the fresh funds to set up in-vitro fertilisation (IVF) clinics across India to provide assisted reproductive treatments, it said.
Design Cafe: The GS E-Commerce-operated online interior design platform raised about $3.6 million late May, according to a regulatory filing made on Tuesday. Returning investors WestBridge Capital and Fireside Ventures participated in the Series B round in exchange for a total of 3,760 preference shares. Post deal, WestBridge holds about 51% stake of the company while Fireside holds about 20%.
WoodenStreet: The Jaipur-based online furniture retail platform raised $3 million as part of an ongoing Series A funding round from IAN Fund and returning investor Rajasthan Venture Capital Funds (RVCF). The company will use the fresh capital to increase its geographic footprint in the domestic and global markets, according to a statement. Earlier in 2018, it raised $1 million in the first tranche of the Series A funding round from RVCF.
Nykaa: Online beauty platform raised about $2.6 million in an equity capital infusion from Sunil Kant Munjal, former joint managing director of two-wheeler manufacturing major Hero MotoCorp. Nykaa's latest fundraise comes on the back of infusions by London-based hedge fund Steadview Capital in the past two months. With the funding, the Mumbai-based startup entered the unicorn club with a reported valuation of $1.2 billion.
Pocket52: The online poker platform raised $1.75 million in a Series A funding round from game development company Gameskraft. The Bengaluru headquartered firm will deploy the funds to improve its technology framework, expand user base and scale business operations. The company last raised capital in June 2019, when returning investor Speciale Invest Fund 1 and Pocket52's chief sales officer Sagar invested $171,440 as part of a seed funding round
LetsTransport: The intra-city logistics marketplace raised $1.3 million from Mumbai-based non-banking financial company BlackSoil Capital. The fresh capital comes shortly after LetsTransport announced a debt funding of $1.7 million from InnoVen Capital. BlackSoil had invested Rs 10 crores into the company in November 2018. LetsTransport has so far raised a total of $25 million from a mix of equity and debt investors.
Crofarm Agriproducts: The Gurugram-based agri-tech that connects farmers with retailers raised $1 million in a bridge funding round, dubbed as 'pre-Series A,' led by the Smile Group.
Additionally, the Gurugram-based startup has also launched Otipy, a platform to connect consumers with farmers through resellers, as it enters the business-to-business-to-consumer (B2B2C) space.
QuaQua: The content-driven virtual travel platform raised $1 million in its first institutional funding round from early stage investment firm Anthill Ventures and other returning investors whose identities were not disclosed. The startup said it will use the fresh funds to build a virtual reality (VR) platform that maps end-to-end travel journeys, from inspiration to planning, booking, travel support and memory sharing.
Contatrack.ai: Singapore and Kolkata headquartered internet of things (IoT) company Hipla Technologies, raised $357,000 in a seed funding round from a consortium of undisclosed investors to strengthen its new solution, grow its products in the office automation space, and invest in research and innovation. The new solution, a software-as-a-service (SaaS) platform called Contatrack.ai, helps companies with contact tracing capabilities and enables employees to maintain social distancing norms.
Knorish: Gurugram-based e-learning software-as-a-service (SaaS) platform raised $3,23,000 in a bridge funding round, dubbed a pre-Series A round, from angel investors. The Standard Greases Family Group and Uday Sodhi, former business head of video-on-demand service Sony Liv, also participated in the round. Knorish last raised capital when 100X.VC invested an undisclosed amount in the company in a seed funding round in December 2019.
Credgenics: The New Delhi-based Analog Legalhub Tech Solutions-owned fintech platform raised an undisclosed amount in a seed funding round led by Titan Capital, an investment firm owned by Snapdeal founders Kunal Bahl and Rohit Bansal. Rajesh Razdan, founder of early stage investment consultation and management firm V2Now; Ajay Garg, managing director of investment bank Equirus Capital; and Mitesh Damania and Sunder Nookala, co-founders of employee engagement firm Kwench, also participated in the round.
Vahak: Epictus Solutions India, which owns and operates the online road transport marketplace, secured an undisclosed amount in a seed funding round led by Leo Capital.
Amit Gupta, Abhishek Goyal, Ramakant Sharma and Harsh Pokharna, founders of Yulu, Tracxn, LivSpace and OkCredit, respectively, participated in the round, along with angel investor Archana Priyadarshini.
Nutrova: Mumbai-based health-tech platform raised an undisclosed amount in a bridge funding round, dubbed as a pre-Series A round, from early-stage investor DSG Consumer Partners. This is the company's first institutional fundraise. The firm plans to use the fresh capital to develop new products, conduct clinical studies and scale up its business.
---